Организатор
Ms. Dorah Kwamboka Momanyi (Founder and CEO Nutritious Agriculture Network (NAN) and Consultancy Limited, Bioinnovate Africa Women Fellow); Ms. Laureen Wamaitha (Founder Heylaura; Agri-business Enthusiast)
Дата/время
Начало
Окончание
Формат
Онлайн
Просьба ознакомиться с приводимыми ниже данными для получения регистрационной информации, если таковая имеется, или обратитесь к руководителю диалога, если желаете принять участие.
Куратор
Ida Nganga (President, Women in STEM Leaders Network; Regional Head UNESCO Emerging Tech); Sharon Alice (Bioinnovate Africa women Alumni Network)
Описание
The role; Partnerships, Collaborations and Multi-stakeholder approaches, Technology, Nutrition Sensitive  and Gender sensitive Food Systems, Indigenous People and Foods and Smart Agricultural solutions  contribute in achieving the collective transition in Diets Towards Sustainable Nutritious Foods.
Благодарности
Nutritious Agriculture Network; Bioinnovate Africa; Women in STEM; AgriBiz; iPoP Africa, The African Association for Vertical Africa Farming (AAVF).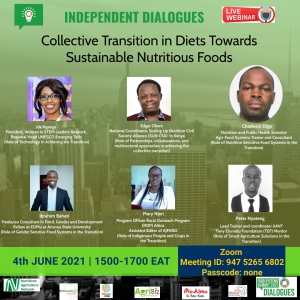 Изображение: Dorah Momanyi