Compte-rendu officiel des Concertations pour le Sommet des Nations Unies sur les systèmes alimentaires 2021
Dernière mise à jour :
Télécharger le PDF
Type de Concertation
Indépendant
Coordonnateur
Cony Peralta, Country Director, Nicaragua - MEDA
Langue de l'événement de Concertation
Spanish
Cible géographique
Canada, Costa Rica, Guatemala, Honduras, Nicaragua, United States of America
Format
En ligne
Veuillez consulter les détails ci-dessous pour obtenir des renseignements sur l'inscription, s'ils sont disponibles, ou communiquer avec le coordonnateur si vous souhaitez y assister.
Animateur
Jessica Villanueva, Technical Director, Impact Investment – MEDA
Description
This Independent Food Systems Summit Dialogue will enrich the canvas of perspectives on how innovative financing can achieve equitable livelihoods in food systems, with an emphasis on small–scale producers. 
The dialogue will welcome and encourage diverse stakeholders in Central American food systems to engage in discussion around the ways that innovative financing can be leveraged to create more accessible and equitable market opportunities for key actors within food systems. The Dialogue will be hosted by MEDA in partnership with RIKOLTO. 
The prosperity of rural communities is closely tied to sustainable, resilient, diversified food production and the women and men small-scale farmers who produce the majority of food grown in Central America. Their contributions are critical to sustain a growing global population; for this reason, the dialogue will place them at the heart of conversation. 
In addition, the Dialogue will pinpoint ways the UN Food Systems Summit can align in their objectives to support the transformation of global food systems, and how we as a global community can act to encourage this alignment.  
Remerciements
MEDA and RIKOLTO.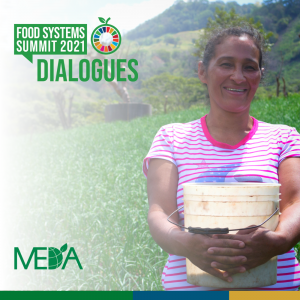 Crédit image : MEDA