الملاحظات التقييمية الرسمية على الحوارات إلى قمة الأمم المتحدة للنظم الغذائية لعام 2021
آخر تحديث:
تنزيل مستند PDF
بدعوة من
Cony Peralta, Country Director, Nicaragua - MEDA
المدينة
Managua, Nicaragua
نطاق التركيز الجغرافي
Canada, Costa Rica, Guatemala, Honduras, Nicaragua, United States of America
التنسيق
على الإنترنت
يُرجى مراجعة التفاصيل أدناه للحصول على معلومات التسجيل إذا كانت متوفرة أو الاتصال بمنظم الحوار إذا كنت ترغب في الحضور.
القيّم
Jessica Villanueva, Technical Director, Impact Investment – MEDA
الوصف
This Independent Food Systems Summit Dialogue will enrich the canvas of perspectives on how innovative financing can achieve equitable livelihoods in food systems, with an emphasis on small–scale producers. 
The dialogue will welcome and encourage diverse stakeholders in Central American food systems to engage in discussion around the ways that innovative financing can be leveraged to create more accessible and equitable market opportunities for key actors within food systems. The Dialogue will be hosted by MEDA in partnership with RIKOLTO. 
The prosperity of rural communities is closely tied to sustainable, resilient, diversified food production and the women and men small-scale farmers who produce the majority of food grown in Central America. Their contributions are critical to sustain a growing global population; for this reason, the dialogue will place them at the heart of conversation. 
In addition, the Dialogue will pinpoint ways the UN Food Systems Summit can align in their objectives to support the transformation of global food systems, and how we as a global community can act to encourage this alignment.  
الشكر والتقدير
MEDA and RIKOLTO.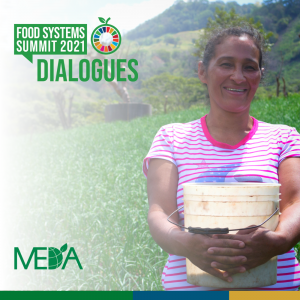 مصدر الصورة: MEDA