Compte-rendu officiel des Concertations pour le Sommet des Nations Unies sur les systèmes alimentaires 2021
Dernière mise à jour :
Télécharger le PDF
Type de Concertation
Indépendant
Coordonnateur
Edible Issues, Gabriella D'Cruz, Takshama Pandit (Food is Political)
Langue de l'événement de Concertation
English
Format
En ligne
Veuillez consulter les détails ci-dessous pour obtenir des renseignements sur l'inscription, s'ils sont disponibles, ou communiquer avec le coordonnateur si vous souhaitez y assister.
Animateur
Edible Issues, Gabriella D'Cruz, Takshama Pandit (Food is Political)
Description
Seaweed Saturdays are a free dive into a new kind of virtual seaweed adventure. Every Saturday we unlock the secrets of seaweed forests, discovering the myriad ways we already use seaweed, conversing with coastal communities and delving into some delicious seaweed recipes. All with a focus on seaweed in India.
Why Seaweed? Why Not!
In India, two states dominate large-scale seaweed production, and the government's policies are likely to stimulate production further across various states. As seaweed garners growing importance, we wish to hold a conversation that provides an understanding of what the seaweed space currently looks like in India, and how it can engage audiences in safe production and responsible consumption of seaweed without adversely affecting biodiversity and the ecosystem.
Seaweed Saturdays aims to bring together individuals from various fields to explore and understand the current landscape of seaweed, the role it plays in mitigating climate change, and how we as a community can ensure responsible production, harvesting, and consumption of seaweed in a way that positively impacts people and the planet.
Read more about the Seaweed Saturdays here
Sign up to the dialogue here
Remerciements
The Good Ocean, Seaweed Manifesto, Nichola Dyer, C-SCAPES.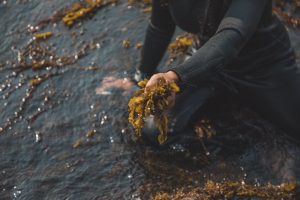 Crédit image : Rebecca D'costa