Type of Dialogue
Independent
Convened by
Edible Issues, Gabriella D'cruz, Takshama Pandit (Food is Political)
Format
Online
Please review the details below for registration information if available or contact the Convenor if you would like to attend.
Curator
Edible Issues, Gabriella D'cruz, Takshama Pandit (Food is Political)
Description
The Seaweed Dialogue will be hosted in the quiet coastal state of Goa, India and will take on a hybrid approach with offline activities such as workshops, tidepool walks, and multi-stakeholder conversations, and a virtual UN Food Systems Summit Independent Dialogue.
Why Seaweed? Why Not!
In India, two states dominate large-scale seaweed production, and the government's policies are likely to stimulate production further across various states. As seaweed garners growing importance, we wish to hold a conversation that provides an understanding of what the seaweed space currently looks like in India, and how it can engage audiences in safe production and responsible consumption of seaweed without adversely affecting biodiversity and the ecosystem.
This three-day event aims to bring together individuals from various fields to explore and understand the current landscape of seaweed, the role it plays in mitigating climate change, and how we as a community can ensure responsible production, harvesting, and consumption of seaweed in a way that positively impacts people and the planet.
Read more about the event here
Sign up to the dialogue here
Acknowledgement
The Good Ocean, Seaweed Manifesto, Nichola Dyer,.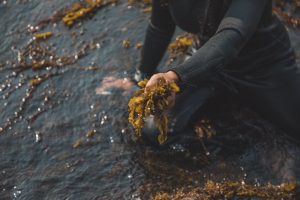 Image credit: Rebecca D'costa