Compte-rendu officiel des Concertations pour le Sommet des Nations Unies sur les systèmes alimentaires 2021
Dernière mise à jour :
Télécharger le PDF
Type de Concertation
Indépendant
Coordonnateur
Shiny Christy - Eco Resolution
Langue de l'événement de Concertation
English
Ville
Chennai, Tamil Nadu, India
Cible géographique
India, Qatar, United Arab Emirates
Format
En ligne
Veuillez consulter les détails ci-dessous pour obtenir des renseignements sur l'inscription, s'ils sont disponibles, ou communiquer avec le coordonnateur si vous souhaitez y assister.
Animateur
Sahana Fathah -Buffalo State University, New York
Description
The dialogue creates a platform to bring together organizations, community members and consumers to discuss solutions towards a sustainable food system. Various stakeholders share their perspectives on localization of food and its global impact. We aligned our event to all the 5 action tracks by the UNFSS and seek to shine light on important questions in the forum such as:
How can the coming generation, especially the youth, understand the interconnectedness between food choice and its the larger impact on the environment and the planet.
Be a part of the transformation towards a more resilient and sustainable food system addressing SDG 2,4 and 11.
Keynote address will be delivered by the fabulous – Krishna McKenzie of Auroville and  Sentil Kumar Balu of Wholesome Rhapsody.
The Session will be moderated by two amazing facilitators -Arun G and Sriram.
To be a dialogue participant, please do send an e-mail stating how your perspectives, can contribute to the discussion in about 50 words on or before the 16th of June 2021, to [email protected]
Remerciements
EcoResolution - Hannah, Christabel, Ruby+Charlotte , Local Futures - Economics of Happiness-Laura Tyley, Loyola Alumni Association - Mr.Masiullah Mohammed K and Mr.Christy Paul (GCC-UAE),Connect with Nature (UAE),Emirates WWF, Climate Action Project (MENA), Koen Timmers -Take Action Global, Captain Planet Foundation (USA), Ma.Senthamizhan, Ko Nammalvar, J.C.Kumarappa, Alisha and Kevin, Raoul Kerr (No Flag), Vandana Shiva (Navdanya), Peter Joseph (Interreflections).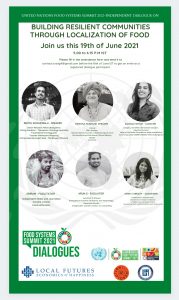 Crédit image : s.ww.c