Official Dialogue Feedback to the United Nations 2021 Food Systems Summit
Last updated:
Download PDF
Type of Dialogue
Independent
Convened by
Shiny Christy - Eco Resolution
Language of Dialogue Event
English
City
Chennai, Tamil Nadu, India
Geographical focus
India, Qatar, United Arab Emirates
Format
Online
Please review the details below for registration information if available or contact the Convenor if you would like to attend.
Curator
Sahana Fathah -Buffalo State University, New York
Description
The dialogue creates a platform to bring together organizations, community members and consumers to discuss solutions towards a sustainable food system. Various stakeholders share their perspectives on localization of food and its global impact. We aligned our event to all the 5 action tracks by the UNFSS and seek to shine light on important questions in the forum such as:
How can the coming generation, especially the youth, understand the interconnectedness between food choice and its the larger impact on the environment and the planet.
Be a part of the transformation towards a more resilient and sustainable food system addressing SDG 2,4 and 11.
Keynote address will be delivered by the fabulous – Krishna McKenzie of Auroville and  Sentil Kumar Balu of Wholesome Rhapsody.
The Session will be moderated by two amazing facilitators -Arun G and Sriram.
To be a dialogue participant, please do send an e-mail stating how your perspectives, can contribute to the discussion in about 50 words on or before the 16th of June 2021, to [email protected]
Acknowledgement
EcoResolution - Hannah, Christabel, Ruby+Charlotte , Local Futures - Economics of Happiness-Laura Tyley, Loyola Alumni Association - Mr.Masiullah Mohammed K and Mr.Christy Paul (GCC-UAE),Connect with Nature (UAE),Emirates WWF, Climate Action Project (MENA), Koen Timmers -Take Action Global, Captain Planet Foundation (USA), Ma.Senthamizhan, Ko Nammalvar, J.C.Kumarappa, Alisha and Kevin, Raoul Kerr (No Flag), Vandana Shiva (Navdanya), Peter Joseph (Interreflections).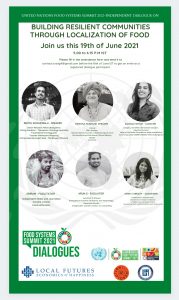 Image credit: s.ww.c