Compte-rendu officiel des Concertations pour le Sommet des Nations Unies sur les systèmes alimentaires 2021
Dernière mise à jour :
Télécharger le PDF
Type de Concertation
Indépendant
Coordonnateur
Lydia Carroon, Business Manager of the Microsoft Airband Initiative, Regina Richardson, Program Officer, Seed & Extension Systems, AGRA and Samuel Afrane, Country Director of The Hunger Project-Ghana in addition to other development experts.
Langue de l'événement de Concertation
English
Cible géographique
Ghana, No borders
Format
En ligne
Veuillez consulter les détails ci-dessous pour obtenir des renseignements sur l'inscription, s'ils sont disponibles, ou communiquer avec le coordonnateur si vous souhaitez y assister.
Animateur
Consolata Dassah, Director of Programs, The Hunger Project-Ghana
Description
Register here: https://go.thp.org/digitaldivide
Learn how bridging the digital divide in rural communities can promote community-led development while maintaining food sustainability. Join representatives from The Hunger Project and development experts from other civil society organizations as they identify ways that implementing digital technology can transform food systems. When private service providers and public interest nonprofits work together to develop digital solutions, community-led development in rural communities thrives.
Remerciements
Farmerline, Microsoft AirBand Initiative, AGRA, Ministry of Food and Agriculture.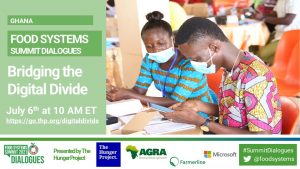 Crédit image : The Hunger Project-Ghana