Официальная обратная связь диалога для Саммита ООН по продовольственным системам 2021 года
Последнее обновление:
Загрузить PDF
Организатор
Lydia Carroon, Business Manager of the Microsoft Airband Initiative, Regina Richardson, Program Officer, Seed & Extension Systems, AGRA and Samuel Afrane, Country Director of The Hunger Project-Ghana in addition to other development experts.
Дата/время
Начало
Окончание
Местоположение
Ghana, No borders
Формат
Онлайн
Просьба ознакомиться с приводимыми ниже данными для получения регистрационной информации, если таковая имеется, или обратитесь к руководителю диалога, если желаете принять участие.
Куратор
Consolata Dassah, Director of Programs, The Hunger Project-Ghana
Описание
Register here: https://go.thp.org/digitaldivide
Learn how bridging the digital divide in rural communities can promote community-led development while maintaining food sustainability. Join representatives from The Hunger Project and development experts from other civil society organizations as they identify ways that implementing digital technology can transform food systems. When private service providers and public interest nonprofits work together to develop digital solutions, community-led development in rural communities thrives.
Благодарности
Farmerline, Microsoft AirBand Initiative, AGRA, Ministry of Food and Agriculture.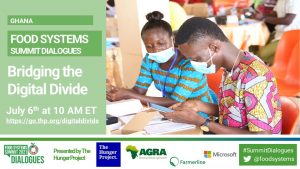 Изображение: The Hunger Project-Ghana