Type de Concertation
Indépendant
Coordonnateur
Godwin Tanda (EPDA)
Langue de l'événement de Concertation
English
Cible géographique
Cameroon
Format
En personne
Veuillez consulter les détails ci-dessous pour obtenir des renseignements sur l'inscription, s'ils sont disponibles, ou communiquer avec le coordonnateur si vous souhaitez y assister.
Animateur
Isabelle Ashu /Bongajum Boris (EPDA)
Description
CONTEXT
Food security as defined by the United Nations Committee on World Food   Security (CFS), means that all people , at all time have physical, social, and economic access to sufficient, safe, and nutritious food that meets their food preferences and dietary needs for An active and healthy life. Food Security does not ends at the farm gate. There is more to ensuring food security than simply growing more food. Food security is essential to a country but it is challenged by factors such as lack of education and political instability e.g. Anglophone crisis, lack of transparency and proper governance, financing, slow paces in technology development and other governance issues. The food chain lead from farm to fork and food scientists and food technologists play a key role in converting raw farm produce in to food products ready for consumption. Cameroon has once been African food basket but now it is food insecure due to many factors.
PROBLEM STATEMENT
Generally Cameroon produce enough food that can feed the entire population but it is food insecure due to postharvest losses, creating the need for more food technologists who help in developing new food preservation methods, food contamination and food fraud incidences making it difficult for consumers to meet up with their nutritional need.
OBJECTIVES
To ensure an inclusive and more meaningful participation of the CSOs in the UN Food Systems Summit 2021 process.
TARGET POPULATION
Youth
Women
Persons Living with Disabilities
Government
Development partners
EXPECTED OUTCOME
To establish a community of practice (CoP) for civil society organizations towards contributing to a sustainable food system in Cameroon.
Remerciements
Neba Henry Shu (Denis Miki Foundation), Chief Akang Samuel Mwene (Youth Development Centre),.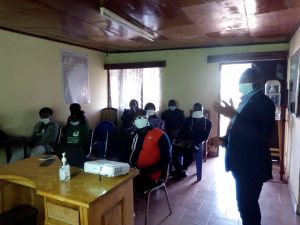 Crédit image : Bongajum Boris (EPDA)