Compte-rendu officiel des Concertations pour le Sommet des Nations Unies sur les systèmes alimentaires 2021
Dernière mise à jour :
Télécharger le PDF
Type de Concertation
Indépendant
Coordonnateur
Kristie Danie, Director Livable Cities Program, HealthBridge ; Kelly Verel, Program Manager Public Markets, Project for Public Spaces;
Langue de l'événement de Concertation
English
Cible géographique
No borders
Format
En ligne
Veuillez consulter les détails ci-dessous pour obtenir des renseignements sur l'inscription, s'ils sont disponibles, ou communiquer avec le coordonnateur si vous souhaitez y assister.
Animateur
Richard McCarthy, Slow Food International
Description
One of the most undervalued assets of cities and regions are traditional public markets. As became even more evident during the Covid 19 pandemic, successful markets play a critical role in supporting local food systems, helping to grow and connect urban and rural economies. They offer low-risk business opportunities for vendors and farmers and feed money back into the rural economy where products are grown, raised and produced. And importantly, they increase access to fresh, affordable and healthy food.
Despite their many benefits, public markets across the globe are endangered by a combination of many forces, ranging from a lack of management capacity and investment in infrastructure to exclusionary economic development practices.
About the Initiative
The Market Cities Initiative was established to advance a new vision for public market systems at the scale of cities, regions, and beyond. The Initiative partners believe the best way to overcome these challenges is for markets to work together in partnership with other groups with common interests in order to maximize the impact of public market systems on their communities. We do this by connecting and supporting local market leaders through research, training, collaborative demonstration projects, and a network of peers.
Help us take our strategy from idea to action
Through this dialogue we will explain the need and opportunity of the Market Cities Initiative and why such an approach is a key component to a healthy food system. The dialogue will convene market operators, vendors, governments, researchers, civil society, and the private sector to discuss how these groups can connect and collaborate to advance local Market Cities' strategies. We'll be breaking out into groups by sector to discuss the issues and topics that are important to them.
Space is limited to 10 people per sector, so register early to secure your spot.  Register at:
https://www.eventbrite.com/e/market-cities-bridging-partners-for-a-more-resilient-public-market-system-registration-161114474731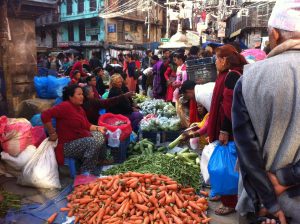 Crédit image : Kristie Daniel, HealthBridge