Type de Concertation
Indépendant
Coordonnateur
Nfor Terence , Earthpays
Langue de l'événement de Concertation
English
Cible géographique
Cameroon
Format
En personne
Veuillez consulter les détails ci-dessous pour obtenir des renseignements sur l'inscription, s'ils sont disponibles, ou communiquer avec le coordonnateur si vous souhaitez y assister.
Animateur
Umu-Sakiratu,Earthpays
Description
The existing consumption patterns in Cameroon and the Northwest region in particular allows for a lot of waste. This waste is at  material, energy and service related. The Food systems are greatly affected by this wastage. At the level of production, transportation, transformation, commercialisation and consumption, large portion of inputs used for production, food produced, energy are wasted.
We believe bringing stakeholders together to discuss on how little shifts in the consumption  can contribute in making the food system more Resilient is vital.
Remerciements
Global Alliance on Climate Smart Agriculture (GACSA),Climate Smart Agriculture Youth Network (CSAYN),Giving Hope to the Hopeless,OCEANE Group.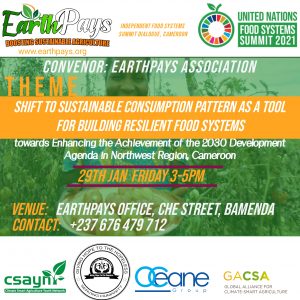 Crédit image : Lafuoet Kevine