Type de Concertation
Indépendant
Coordonnateur
Convenor: Hon. Biobelemoye Bokolo (Chairman, ASCOTID EX-BUNKERERS ASSOCIATION); Co-Convenor: HRH Ovie Omeleh (Secretary General, International Family Foundation IFF); Co-Convenor: Mr. Yemmoh Stephen (ASCOTID FORMER SEA PIRATES AND REPENTANT CULTISTS)
Langue de l'événement de Concertation
English
Cible géographique
Nigeria
Format
En ligne
Veuillez consulter les détails ci-dessous pour obtenir des renseignements sur l'inscription, s'ils sont disponibles, ou communiquer avec le coordonnateur si vous souhaitez y assister.
Animateur
Mr. Alexander Sewell (Senior Research and Policy Officer, Stakeholder Democracy Network)
Description
– Towards a Zero Hunger, Nourish the Future Pledge
– Financing for food security – how global solutions can respond to smallholder priorities?
– Promoting actionable multi-stakeholder collaboration for inclusive and equitable food systems governance at all levels
– Equity and Justice in Food System Transformation
– Women's Economic Empowerment to Combat Malnutrition
– Pathways to Sustainable and Equitable Coastal Resilience
– Supporting community based organisations (CBOs) and advocacy efforts aimed at driving sustainable interventions on food security for underprivileged people and vulnerable groups
Remerciements
Association of Coastal Oil Traders in the 'Delta (ASCOTID), Stakeholder Democracy Network (SDN), UKAID, International Family Foundation (IFF).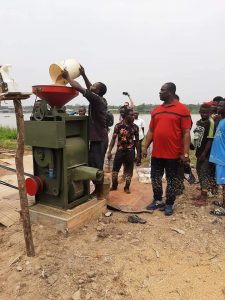 Crédit image : ASCOTID EX-BUNKERERS ASSOCIATION