Организатор
Convenor: Hon. Biobelemoye Bokolo (Chairman, ASCOTID EX-BUNKERERS ASSOCIATION); Co-Convenor: HRH Ovie Omeleh (Secretary General, International Family Foundation IFF); Co-Convenor: Mr. Yemmoh Stephen (ASCOTID FORMER SEA PIRATES AND REPENTANT CULTISTS)
Дата/время
Начало
Окончание
Формат
Онлайн
Просьба ознакомиться с приводимыми ниже данными для получения регистрационной информации, если таковая имеется, или обратитесь к руководителю диалога, если желаете принять участие.
Куратор
Mr. Alexander Sewell (Senior Research and Policy Officer, Stakeholder Democracy Network)
Описание
— Towards a Zero Hunger, Nourish the Future Pledge
— Financing for food security – how global solutions can respond to smallholder priorities?
— Promoting actionable multi-stakeholder collaboration for inclusive and equitable food systems governance at all levels
— Equity and Justice in Food System Transformation
— Women's Economic Empowerment to Combat Malnutrition
— Pathways to Sustainable and Equitable Coastal Resilience
— Supporting community based organisations (CBOs) and advocacy efforts aimed at driving sustainable interventions on food security for underprivileged people and vulnerable groups
Благодарности
Association of Coastal Oil Traders in the 'Delta (ASCOTID), Stakeholder Democracy Network (SDN), UKAID, International Family Foundation (IFF).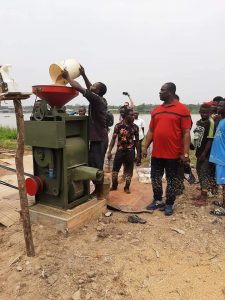 Изображение: ASCOTID EX-BUNKERERS ASSOCIATION