Compte-rendu officiel des Concertations pour le Sommet des Nations Unies sur les systèmes alimentaires 2021
Dernière mise à jour :
Télécharger le PDF
Type de Concertation
État membre
Coordonnateur
Mr. Hong, Keun Hyung, Team Leader, Presidential Committee on Agriculture, Fisheries and Rural Policy
Langue de l'événement de Concertation
Korean
Ville
419-4 Songdam-ri, Nam-myeon, Yeongi-gun, Chungcheongnam-do, South Korea
Cible géographique
Republic of Korea
Format
En personne
Veuillez consulter les détails ci-dessous pour obtenir des renseignements sur l'inscription, s'ils sont disponibles, ou communiquer avec le coordonnateur si vous souhaitez y assister.
Description
Team leader from Presidental Committee in Agriculture, Fisheries and Rural Policy(PCAFRP) would explain how to implement the « National Food Plan », which was prepared in cooperation of various ministries under the leadership of PCAFRAP a month ago.
Ministry of Agriculture, Food and Rural Affairs(MAFRA) would introduce the National Dialogues convened by President of Korea Rural Economic Institute(National Dialogue Convenor) in cooperation with MAFRA, and ask other ministries to join the dialogues.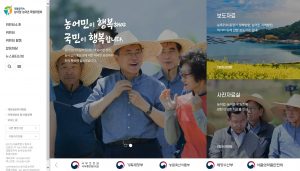 Crédit image : PCAFRP