Official Dialogue Feedback to the United Nations 2021 Food Systems Summit
Last updated:
Download PDF
Type of Dialogue
Member State
Convened by
Mr. Hong, Keun Hyung, Team Leader, Presidential Committee on Agriculture, Fisheries and Rural Policy
Language of Dialogue Event
Korean
City
419-4 Songdam-ri, Nam-myeon, Yeongi-gun, Chungcheongnam-do, South Korea
Geographical focus
Republic of Korea
Format
In-person
Please review the details below for registration information if available or contact the Convenor if you would like to attend.
Description
Team leader from Presidental Committee in Agriculture, Fisheries and Rural Policy(PCAFRP) would explain how to implement the "National Food Plan", which was prepared in cooperation of various ministries under the leadership of PCAFRAP a month ago.
Ministry of Agriculture, Food and Rural Affairs(MAFRA) would introduce the National Dialogues convened by President of Korea Rural Economic Institute(National Dialogue Convenor) in cooperation with MAFRA, and ask other ministries to join the dialogues.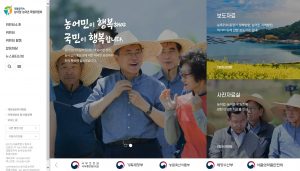 Image credit: PCAFRP