الملاحظات التقييمية الرسمية على الحوارات إلى قمة الأمم المتحدة للنظم الغذائية لعام 2021
آخر تحديث:
تنزيل مستند PDF
بدعوة من
Name: Asikaralu Okafor Organization: Maklumy Technology Services Limited Title: CEO
لغة فعالية الحوار
Local parlance (Igbo language) and English language
المدينة
Anam, Anambra, Nigeria
نطاق التركيز الجغرافي
Nigeria, No borders
التنسيق
شخصيّاً
يُرجى مراجعة التفاصيل أدناه للحصول على معلومات التسجيل إذا كانت متوفرة أو الاتصال بمنظم الحوار إذا كنت ترغب في الحضور.
القيّم
Name: Asikaralu Okafor Organisation: Village Farmers Initiative Title: Founder
الوصف
The themes, issues and processes to be discussed in this dialogue are as follows:    1. Identification of ways to reduce the risk of food production.   2. The use of indigenous people's knowledge and empowerment of marginalized and vulnerable people to create a sustainable food system.     3. Challenges posed by the extinction of our various food varieties and the way forward.     4. Challenge to food system caused by the impact of climate change on our environment in the coastal communities.     5. Engaging indigenous people and fishermen migrants with knowledge and ideas to protect, restore and promote sustainable use of territorial ecosystems.      6. Exploring indigenous people's knowledge on sustainable management of our forests.     7. Exploring indigenous people's knowledge, skills and experiences to halt biodiversity loss.
الشكر والتقدير
Uwaoma Anambra-West Farmers Cooperative Union, Chartered Institute of Export and Commodity Brokers of Nigeria, Ogbuevi Orjiakor Mmaneme, Village Farmers Initiative, Eucharia Agulu, Ignatius Obinna and Linus Ofozor.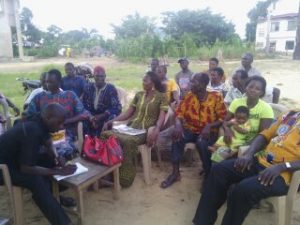 مصدر الصورة: From my android phone's camera