الملاحظات التقييمية الرسمية على الحوارات إلى قمة الأمم المتحدة للنظم الغذائية لعام 2021
آخر تحديث:
تنزيل مستند PDF
بدعوة من
Jane Alice Liu, Editor-in-Chief of FoodUnfolded, EIT Food
المدينة
Rotterdam, Netherlands
نطاق التركيز الجغرافي
No borders
التنسيق
على الإنترنت
يُرجى مراجعة التفاصيل أدناه للحصول على معلومات التسجيل إذا كانت متوفرة أو الاتصال بمنظم الحوار إذا كنت ترغب في الحضور.
الوصف
The Challenge: Has the word 'sustainability' become an empty term used in policy, industry, research and amongst consumers? How can we move beyond the hype towards real sustainable change?
The Future: A renewed understanding of the word 'sustainability', in which everyone has a clear definition of what qualifies as sustainable. The parameters of sustainability lay a common foundation for all the actors in the food system (from farmers, industry, research, policy and consumers) to move towards true sustainable production and consumption.
The Question: How do we qualify, quantify and reinforce sustainable practices, industries, innovations and policies?
In this dialogue we're looking to discuss and explore:
How do you personally interpret the term sustainability?
How is sustainability understood in your culture or region? Is it relevant to the people around you?
How do you see 'sustainable' used in: marketing, industry, research, government legislation, or consumption habits?
Does your understanding of 'sustainability' vary depending on these different contexts?
What qualifies as sustainable to you? Are there clear lines for what is and is not sustainable?
Should the concept of what qualifies as sustainable be universally standardised or region-specific?
How would you define a product, practice, or legislation as sustainable?
Do we need different structures to hold accountability and reinforce what we define to be 'sustainable'? What would that look like?
These questions will be addressed in four areas:
Marketing/Labelling
Agriculture/Business/Supply Chains
Research/Innovation
Public Sector/Policy
Domestic & International Development
Your View: This Dialogue invites the millennial generation to discuss these questions openly and honestly from their own perspectives as consumers, as well as their roles (if applicable) in sales/marketing, agriculture, industry, policy innovation.
We welcome all perspectives. Please get in touch if you would like to join this dialogue.
This Dialogue is hosted by FoodUnfolded, whose mission is to reconnect people to the origins of our food. FoodUnfolded is a platform funded by the European Institute of Innovation and Technology (EIT) Food.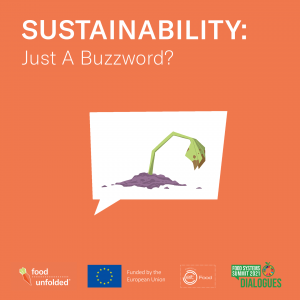 مصدر الصورة: Sachi Mulkey