الملاحظات التقييمية الرسمية على الحوارات إلى قمة الأمم المتحدة للنظم الغذائية لعام 2021
آخر تحديث:
تنزيل مستند PDF
بدعوة من
Aran Shaunak: Editor at FoodUnfolded, EIT Food
نطاق التركيز الجغرافي
No borders
التنسيق
على الإنترنت
يُرجى مراجعة التفاصيل أدناه للحصول على معلومات التسجيل إذا كانت متوفرة أو الاتصال بمنظم الحوار إذا كنت ترغب في الحضور.
القيّم
Aran Shaunak: Editor at FoodUnfolded, EIT Food
الوصف
The Future: A world where food production is a truly sustainable industry, and where farmers, fisherfolk and other workers in the food system have adapted and been supported so that none are left without their livelihood.
The Question: How can we transition to a more sustainable food system without leaving behind those who work in our current food system?
---
.


In this dialogue we're looking to discuss and explore:
What is the definition of "sustainable"? How do we know which foods or methods of food production are "sustainable" and which are not?
Some areas and methods of food production today are unsustainable. What needs to happen for all producers to switch to more sustainable food production practices? How can we support each other to make those transitions?
A sustainable food system will involve eating more of some things, but less of others. What will happen to current producers of "unsustainable" foods if we stop eating them? How can we work with those who rely on these industries to ensure they are not left behind without their livelihood?
In particular, we will be discussing:
Meat & Soy: How would reduced meat consumption impact livestock farmers? What alternative options and innovations could they explore? Is there a way to make meat production sustainable on a large scale? How would changes in demand for animal feed impact people in the soy production chain? Is there a role for meats in a truly sustainable diet?
Fish: What would sustainable fishing look like for fisherfolk, from the industrial to the local scale? Is there a need for stricter restrictions and regulations, and who should be given priority when it comes to the fish in our oceans? How would stricter restrictions impact fisherfolk, and how can we support this transition to more sustainable fisheries?  What alternative options and innovations are available to fisherfolk?
Cheese & Dairy:  What would reduced consumption of dairy products mean for farmers and processors? How able are they to adapt to changing consumption patterns? What alternatives and innovations could they explore to maintain their source of income? How can we consume dairy products sustainably without losing foods of cultural importance?
Palm Oil: What would producing palm oil sustainably mean for producers, workers, communities and nations that rely on palm oil as a key source of income? Are there more sustainable alternatives that could replace palm oil? What does sustainable palm oil production look like? How can we incentivise sustainable production practices? What alternative options and innovations could actors in the palm oil production chain explore?
---
.
Your View: This dialogue invites you to share and hear different views on how a sustainable food system can support everyone who works in our current food chain: what are the barriers to achieving this future, and how we can overcome them together.
We welcome all perspectives. Please get in touch if you would like to join this dialogue.
This Dialogue is hosted by FoodUnfolded, whose mission is to reconnect people to the origins of our food. FoodUnfolded is a platform funded by the European Institute of Innovation and Technology (EIT) Food.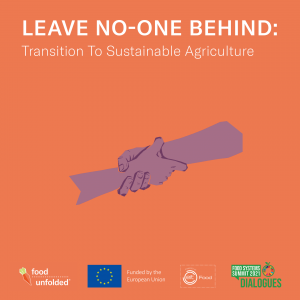 مصدر الصورة: Sachi Mulkey