الملاحظات التقييمية الرسمية على الحوارات إلى قمة الأمم المتحدة للنظم الغذائية لعام 2021
آخر تحديث:
تنزيل مستند PDF
بدعوة من
World Vegetable Center
نطاق التركيز الجغرافي
Belize, Benin, Burkina Faso, Cameroon, Eswatini, Ethiopia, Ghana, Kenya, Madagascar, Malawi, Niger, Nigeria, Rwanda, Senegal, South Africa, South Sudan, Uganda, United Republic of Tanzania, Zambia, Zimbabwe
التنسيق
شخصيّاً
يُرجى مراجعة التفاصيل أدناه للحصول على معلومات التسجيل إذا كانت متوفرة أو الاتصال بمنظم الحوار إذا كنت ترغب في الحضور.
القيّم
Director - Communications, Maureen Mecozzi, World Vegetable Center
الوصف
Ensuring a healthier Africa now and into the future demands a smart, sustainable food system to deliver diets rich in nutritious, plant-based foods such as African traditional vegetables. These crops were in the spotlight during Power on Your Plate: All-Africa Summit on Diversifying Food Systems with African Traditional Vegetables to Increase Health, Nutrition, and Wealth, 25-28 January 2021 in Arusha, Tanzania and online. The summit sought to advance knowledge and ideas to expand the production and consumption of the crops poised to become Africa's superfoods.
الشكر والتقدير
United States Agency for International Development (USAID), CABI, Global Alliance for Improved Nutrition (GAIN), Kenarava Group, Rutgers University, Association of Women in Agriculture Kenya, Association for Strengthening Agricultural Research in Eastern and Central Africa (ASARECA), Tanzania Horticultural Association (TAHA).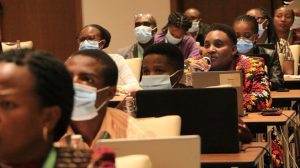 مصدر الصورة: World Vegetable Center