الملاحظات التقييمية الرسمية على الحوارات إلى قمة الأمم المتحدة للنظم الغذائية لعام 2021
آخر تحديث:
تنزيل مستند PDF
بدعوة من
FARM AFRICA KENYA - Anastasia Mbatia
المدينة
Chaka Rd, Nairobi, Kenya
نطاق التركيز الجغرافي
Kenya
التنسيق
على الإنترنت
يُرجى مراجعة التفاصيل أدناه للحصول على معلومات التسجيل إذا كانت متوفرة أو الاتصال بمنظم الحوار إذا كنت ترغب في الحضور.
القيّم
JANE NGIGE - AGRICULTURE SECTOR NETWORK (ASNET)
الوصف
Farm Africa- Kenya intends to coordinate a high level national dialogue targeting policy makers and industry influencers in a Zoom chat room. The agenda is centered on addressing food systems complexities that influence food loss pathways to pave way for implementation and unlocking the country's potential to food security. The Farm to Fork dialogues will host  stakeholders drawn from farmer cooperatives/ associations, manufacturers/processors and private industry stakeholders- Kenya Private Sector Alliance (KEPSA), national government agriculture representatives.
CONCEPT
Contrary to SDG Goal 2: Zero Hunger, food insecurity and malnourishment plagues hundreds of thousands of Kenyans every day. An estimation of one in three Kenyans (1 in 3) is food poor which translates to 14.5% of the population and one in four Kenyan children under five years (1 in 4) have stunted growth (Source). Kenya is facing increasingly complex food and nutrition security problems and producing and providing food is a power game that its smallholder farmers are losing.
Due to this complexity, the long-term sustainability of its food system and its resilience to shocks (and unexpected events) depends on a wide range of local and global drivers. For Kenya's food systems to provide food security, the food supply needs to be stable both in availability and affordability including through price stability.
One of the primary inefficiencies of the global food system is food loss and waste. Food loss happens in various parts of the value chain. Some crops are destroyed in the field before ever making it to market. Other crops are harvested and then spoil on the way to market. Consumers contribute to food waste every time someone goes grocery shopping and throws out fruits and vegetables before eating. It is estimated that almost 30 percent of the world's agricultural land is devoted to producing food that will never even be eaten because of these inefficiencies. Minimizing food loss can help to increase the amount of food that reaches the market.
الشكر والتقدير
JANE NGIGE - AGRICULTURE SECTOR NETWORK ( ASNET).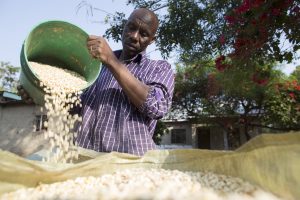 مصدر الصورة: Mwangi Kirubi