الملاحظات التقييمية الرسمية على الحوارات إلى قمة الأمم المتحدة للنظم الغذائية لعام 2021
آخر تحديث:
تنزيل مستند PDF
بدعوة من
Convener Jackson Buzingo Country Representative - ONE MORE SALARY Tanzania
نطاق التركيز الجغرافي
Kenya, Rwanda, Uganda, United Republic of Tanzania, Zambia, Zimbabwe
التنسيق
على الإنترنت
يُرجى مراجعة التفاصيل أدناه للحصول على معلومات التسجيل إذا كانت متوفرة أو الاتصال بمنظم الحوار إذا كنت ترغب في الحضور.
القيّم
The Curator Dr. Honest Kessy, National Conveners, Ministry of Agriculture of Tanzania
الوصف
Theme;
The main theme of the webinar is to discuss the reality of the state of the smallholder farmers right now and evaluate opportunities and challenges in the adoption of agroecology to build food system resilience. what are the discrepancies in their involvement in food systems dialogues. Have we heard them exactly what they need to transform food system transformed? What should be transformed to ensure smallholder farmers practice climate smart agriculture? Smallholder farmers plays an important role in these ongoing discussion, are they being involved effectively? Smallholder farmers are able to reverse the trend of broken food systems if they are given a chance to speak for themselves. We stress about regeneration initiatives, agri-tech, and agroforestry etc, does smallholder farmers aware of these initiatives? If not! How are we going to assist them make their voice heard and counted?
Objectives
● To highlight the current setbacks that hinder smallholder farmers adopting agro-ecology and identify opportunities that can be harnessed in agriculture.
● To create a space for smallholder farmers to effectively contribute in the food system summit processes effectively in the FSS dialogues.
● Explore ways and opportunities available in climate smart agriculture particularly in Regenerative Agriculture, agri-tech, and Agroforestry etc.
● To push governments and policy makers to recognize the role smallholder farmers play in feeding the world.
Expected Outcomes
● To amplify smallholder farmers voice and their needs to be heard and acted upon by the governments, politicians and decision makers.
● To ensure smallholder farmers are empowered in terms of individual level to community level hence national in scaling climate smart agriculture initiatives.
● To promote smallholder farmers adoption of agro-ecology for sustained efforts in transforming food systems amidst crisis like climate shocks and COVID-19
Target group
The webinar targets smallholder farmers involved in current FSS Dialogues. How we reach out to them to make their voice heard and counted despite barrier posed by covid19?
الشكر والتقدير
Dr. HONEST KESSY-MINISTRY OF AGRICULTURE, Dr. LISTON NJOROGE -AGRA, REAL FOOD SYTEMS, AT5 YOUTH RESILIENCE TEAM, DENNIS CORTEZ- ENVIROLIZER.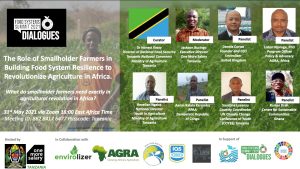 مصدر الصورة: ONE MORE SALARY