الملاحظات التقييمية الرسمية على الحوارات إلى قمة الأمم المتحدة للنظم الغذائية لعام 2021
آخر تحديث:
تنزيل مستند PDF
بدعوة من
Pooja Moitra , Programme Director, Institute For Motivating Self Employment
لغة فعالية الحوار
Bengali, Hindi and English
المدينة
Kolkata, West Bengal, India
نطاق التركيز الجغرافي
India, No borders
التنسيق
على الإنترنت
يُرجى مراجعة التفاصيل أدناه للحصول على معلومات التسجيل إذا كانت متوفرة أو الاتصال بمنظم الحوار إذا كنت ترغب في الحضور.
الوصف
India is still far behind in global hunger index. Despite of having enough resources in our country, we still cannot meet the entire food requirement. Resource distributions remain skewed and small food producers continue to face challenges in improving their livelihoods through small scale agriculture. The important contribution of small food producers towards food and nutrition security of our nation needs to be highlighted and the need to develop a policy framework should be realised. This is where UNFSS is going to contribute and the independent national level dialogues are windows to share our solutions/ experiences/recommendations with multi stakeholders, who will be part of the main summit. In recent times the situation of small and marginal farmers are getting deplorable due to multiple factors.There are a number of problems, which restrict further development of small food producers livelihoods, like resource distribution problem, problem of not having appropriate technological solutions (or lack of access to the existing technologies), financial problem, agro ecological problem, marketing problem etc. The main objective of this summit is to discuss on those vital issues and pick up the desirable solutions to present as people's dialogue to united nation food system.
The key objectives of the dialogue are :
• Raise farmer awareness and elevate public discussion about how reforming our food systems can help us all to achieve the SDGs by implementing reforms that are good for people and planet.
• Generate pro-farmer policy recommendation and significant action and measurable progress towards the 2030 Agenda for Sustainable Development by identifying solutions and leaders, and issuing a call for action at all levels of the food system, including national and local governments and development partners
• Agree on a system of follow-up and review to ensure that the recommendations generated at the national independent dialogue are considered by the national government and by various action tracks towards new actions and progress
الشكر والتقدير
Asian Farmers Association (AFA) and International Fund For Agriculture Development (IFAD).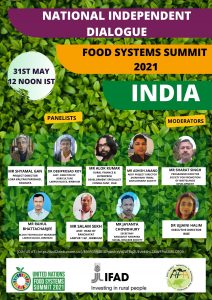 مصدر الصورة: INSTITUTE FOR MOTIVATING SELF EMPLOYMENT