الملاحظات التقييمية الرسمية على الحوارات إلى قمة الأمم المتحدة للنظم الغذائية لعام 2021
آخر تحديث:
تنزيل مستند PDF
بدعوة من
Lao farmer network
نطاق التركيز الجغرافي
Lao People's Democratic Republic, No borders
التنسيق
على الإنترنت
يُرجى مراجعة التفاصيل أدناه للحصول على معلومات التسجيل إذا كانت متوفرة أو الاتصال بمنظم الحوار إذا كنت ترغب في الحضور.
الوصف
The National Independent Dialogue on Food Systems Summit in Laos
Organized on May 31, 2021
31 Participants From FO 11, CSO 2, Government 1, IFAD/FAO 3, Development Partners/Donors 5, LFN staff 9
The meeting Presentations focused on:
1) Presentation of Orientation on FSS: what is FSS and what is at stake for farmers
2) Overviews of the Food Systems Summit at the national level on June 2, 2021: The purpose of the meeting and topics to be discussed at the conference. Organized by the Ministry of Agriculture and Forestry.
3) Presentation on IFAD's role in food Systems and support to the farmers.
4) Presentation of Game changing solutions which would be Adopted at the Global FSS Conference
After that, the participants had a Discussion on game changing solutions in 5 Action Track Such as: Access to safe nutritious food for all, Sustainable consumption, Nature Positive Production, Equitable livelihoods, and Resilience.
Affirmation and addition:
AT1 Access to safe nutritious food for all: Promote production on nutrition and or sufficient in households at rural level, educate farmers about nutrition,​ disseminated Information on safe food consumption and clean, Change Consumption behavior, Establishment of farmer field schools to strength local farmers by providing technical Trainings, exchange experience on Farmer to farmer.
AT2 Sustainable consumption: Raise consumer awareness of the importance of clean and safe consumption, Promote Food Security and Reduce Hunger, address malnutrition to reduce child mortality
AT3 Nature Positive Production: Offer the government review about Agric-Product Negative environmental impacts such as chemicals, slash shifting cultivation.
AT4 Equitable livelihoods: Equality between small and large producers and Organic producers and chemicals producers, foreign investment that affects the environment. Companies investing in the country must have farmers involved with the company, creating jobs to young and Promote youth in Agriculture and access to funding
AT5: Resilience: Food Systems Resilience, strafing product after harvest, preserving food and processing. risk management during a disaster or epidemic, Dissemination of information of climate change, capacity building on resilience of Climate change or Covid-19, fluctuations in the market, should be research how to resilience and provide information to confidence in production, Farmers' innovation (researching climate-resilient crops, upscaling a successful model on new crop variety, etc.), meteorology information, Seasonal pest information
5)     ​ Presentation of FO action document/proposal
Participants have commented together on the action documents to the Global FSS for consideration. Participant discussion on 3 Action: Action 1: Establish Farmers' Resiliency Trust Fund for Transformative Food System, Action 2: Establish Farmer Impact Investment Fund, Action 3: UN partnership with Global Farmers Forum.
The results of the discussion showed that the participants agreed of 3 actions. If this can be done, it will help solve the problems of the food system in the best way and be beneficial to farmers because it will make it more sustainable, make them more interested in agriculture and reduce the migration of foreign workers.
Participant has a recommendation Such as:
Promote youth in Agriculture and access to funding,
Change Consumption behavior
Capacity building of farmers
Climate Resilience Such as:  Climate change
Rapid of meteorology information and up to date
Farmers' innovation (researching climate-resilient crops, upscaling a successful model on new crop variety, etc.)
Processing, increasing production value
the work requires multilateral cooperation and should cooperate with farmers' network/ Farmers' organizations.
Join Zoom Meeting, link below, to share your experience and valuable input:
https://us02web.zoom.us/j/83760989486?pwd=MVdhWjRuMWxPa0c0cVJuZUZSbGpqdz09
Meeting ID: 837 6098 9486
Passcode: 12345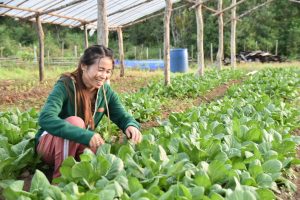 مصدر الصورة: Lao farmer network