الملاحظات التقييمية الرسمية على الحوارات إلى قمة الأمم المتحدة للنظم الغذائية لعام 2021
آخر تحديث:
تنزيل مستند PDF
بدعوة من
Hon Amie Fabureh ,Minister of Agriculture
نطاق التركيز الجغرافي
Gambia (Republic of The)
التنسيق
شخصيّاً
يُرجى مراجعة التفاصيل أدناه للحصول على معلومات التسجيل إذا كانت متوفرة أو الاتصال بمنظم الحوار إذا كنت ترغب في الحضور.
القيّم
Mr Musa Saihou Mbenga
الوصف
FOUR THEMATIC WORKING GROUPS.
Ensure access to safe and nutritious food for all & shift to sustainable consumption patterns
Boost nature-positive production & Advance equitability in livelihoods
Build resilience to vulnerabilities, shocks and stress
Private Sector Participation.
PROCESSES
Formation of different committees to coordinate the dialogue process
Regional Dialogues
Thematic working group Dialogues
Validation
Adoption
الشكر والتقدير
UNRCO, UNFAO, UNWFP.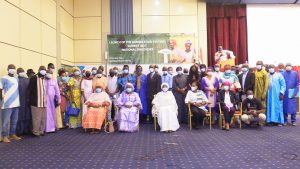 مصدر الصورة: Mr. Mustapha Darboe Communication Education and Extension services.