بدعوة من
Dr Sifiso Ntombela
المدينة
Pretoria, South Africa
نطاق التركيز الجغرافي
South Africa
التنسيق
على الإنترنت
يُرجى مراجعة التفاصيل أدناه للحصول على معلومات التسجيل إذا كانت متوفرة أو الاتصال بمنظم الحوار إذا كنت ترغب في الحضور.
الوصف
Minister Thoko Didiza to host an independent dialogue on youth in agriculture as part of Youth Month celebrations in South Africa. The independent amongst other objectives will highlight the role that youth in the agriculture sector must play to transform food systems. It will also address the issues of land reform and opportunities available for the young people in terms of access to land, finance, and access to markets.
الشكر والتقدير
Department of Agriculture, Land Reform and Rural Development as well as Government Communications.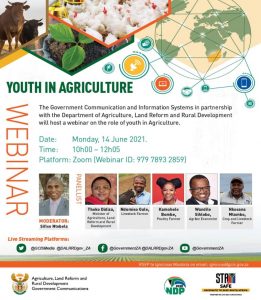 مصدر الصورة: National Agricultural Marketing Council