الملاحظات التقييمية الرسمية على الحوارات إلى قمة الأمم المتحدة للنظم الغذائية لعام 2021
آخر تحديث:
تنزيل مستند PDF
بدعوة من
Impact Nutrition Africa Initiative (INAI)
نطاق التركيز الجغرافي
Nigeria
التنسيق
على الإنترنت
يُرجى مراجعة التفاصيل أدناه للحصول على معلومات التسجيل إذا كانت متوفرة أو الاتصال بمنظم الحوار إذا كنت ترغب في الحضور.
القيّم
Mr. Adeoluwa Adegbemile (Food System Program Coordinator, INAI)
الوصف
Despite Africa's endowment with abundant arable land and vast water resources, its agricultural sector is unable to supply enough food to the continent. With a rapidly growing youth population expected to double to over 830 million by 2050, youths remain Africa's greatest asset for its Food System Transformation. Nigeria, the most population black nation with over 43% of its population as youths ranks 98th of 107 countries on the 2020 Global Hunger Index. With less youths involved in the food and agricultural sector, the need for youth inclusion in transforming the broken food system is imperative.
In light of this, Impact Nutrition Africa Initiative intends to bring together youth stakeholders from all sectors across the food value chain  to an independent dialogue on 17th June, 2021 titled, "Addressing the Food System Dynamics: Nigerian Youths as Frontline Actors" to give insights into building a sustainable and youth-inclusive food system in Nigeria.
It will be an open dialogue with an overall objective of deliberating and recommending realistic and workable ways of transforming the Nigerian Food System. The dialogue will focus on 5 sub-themes as below;
Food and Nutrition Security
Consumer Education
Climate-Smart Agriculture
Food Trade
Fin-Tech for Resilience
Each of the above topics will be discussed extensively in breakout rooms during the dialogue.
Registration for the INAI Independent Food System Summit Dialogue is open, we hereby invite you to register using the link below.
https://us02web.zoom.us/meeting/register/tZwof-CtrTMoG9yPkkP3KuMQF5Rkx3Cqv6Pv
الشكر والتقدير
Mr. Adedotun Owolabi.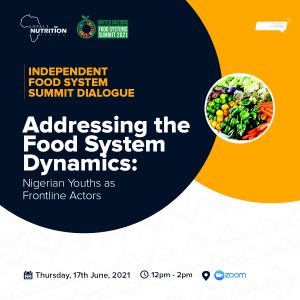 مصدر الصورة: Olaniyi Joshua Bukunmi