بدعوة من
African Ministers' Council on Water (AMCOW)
نطاق التركيز الجغرافي
Namibia, Nigeria, Uganda
التنسيق
على الإنترنت
يُرجى مراجعة التفاصيل أدناه للحصول على معلومات التسجيل إذا كانت متوفرة أو الاتصال بمنظم الحوار إذا كنت ترغب في الحضور.
القيّم
Paul Orengoh, AMCOW
الوصف
Africa's food security and nutrition are under severe threat from climate change. Without rapid change, net food import dependency will exceed 50% by 2050.  This session discusses the role of accelerated groundwater development in reversing these trends to 1) achieve food security and nutrition; 2) strengthen nature-based solutions; 3) boost rural incomes; and 4) reduce vulnerability to climate shocks and stresses. The session will include an overview of key issues as well as two case studies from Africa followed by a panel discussion of African policymakers focused on their engagement toward transforming food systems from the ground up.
الشكر والتقدير
Paul Orengoh, Director of Programs, AMCOW; Callist Tindimugaya, Commissioner for Water Resources Planning and Regulation, Ministry of Water and Environment, Uganda; Bertram Swartz, Deputy Director, Ministry of Agriculture, Water and Land Reform, Namibia; Claudia Ringler, Deputy Division Director, IFPRI and Deputy Director, CGIAR WLE; Karen Villholdt and Inga Jacobs-Mata, IWMI South Africa; Emmanuel Olet, African Development Bank; Erwin de Nys, Program Leader, World Bank Pretoria.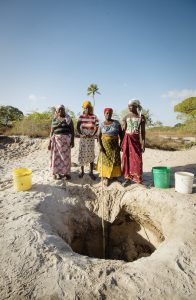 مصدر الصورة: Eliza Powell, WaterAid