الملاحظات التقييمية الرسمية على الحوارات إلى قمة الأمم المتحدة للنظم الغذائية لعام 2021
آخر تحديث:
تنزيل مستند PDF
بدعوة من
iamtheFood and Social Gastronomy Movement
نطاق التركيز الجغرافي
Algeria, Angola, Benin, Botswana, Burkina Faso, Burundi, Cabo Verde, Cameroon, Central African Republic, Chad, Comoros, Congo, Côte D'Ivoire, Democratic Republic of the Congo, Djibouti, Egypt, Equatorial Guinea, Eritrea, Eswatini, Ethiopia, Gabon, Gambia (Republic of The), Ghana, Guinea, Guinea Bissau, Kenya, Lesotho, Liberia, Libya, Madagascar, Malawi, Mali, Mauritania, Mauritius, Morocco, Mozambique, Namibia, Niger, Nigeria, Rwanda, Sao Tome and Principe, Senegal, Seychelles, Sierra Leone, Somalia, South Africa, South Sudan, Sudan, Togo, Tunisia, Uganda, United Republic of Tanzania, Zambia, Zimbabwe
التنسيق
على الإنترنت
يُرجى مراجعة التفاصيل أدناه للحصول على معلومات التسجيل إذا كانت متوفرة أو الاتصال بمنظم الحوار إذا كنت ترغب في الحضور.
القيّم
Lady Mariéme Jamme - iamtheCODE / Nicola Gryczka Kirsch - Social Gastronomy Movement
الوصف
Despite its huge agricultural potential, Africa spends around US$35bn each year on food imports. Ahead of UN Food Summit, iamtheFOOD and Social Gastronomy Movement will co-convene this important dialogues to highlight the importance of food and nutrition for women and girls worldwide. Almost 690 million people remain chronically undernourished, amid signs of diminishing momentum towards reaching Zero Hunger. Malnutrition and lack of food have affected women and girls, especially those living in marginalized communities. In 2011, the late United Nations Secretary-General Koffi Annan, in his address to the UN International Fund for Agricultural Development (IFAD), said that "Africa can feed the world in the next 50 years". 
Technology must play a role in developing food systems from traceability to food on our plates, and women and girls are the backbone and will feed the world. iamtheFOOD aims to take technologies and innovations to hundreds of millions of women farmers by 2030.
By 2050 the world's population will likely increase by more than 35 percent. To feed that population, crop production will need to double. Production will have to far outpace population growth as the developing world grows prosperous enough to eat more meat. The world's population will likely reach nine billion by 2050, and Africa could help feed it. In some areas arable land may be developed; in other areas it never will be. How can we unleash the continent's food power? How will women and girls play a leading role? How can gastronomy play a role? 
How will technology play a role? How can we empower the African continent to own and use their lands to provide for its people and the world?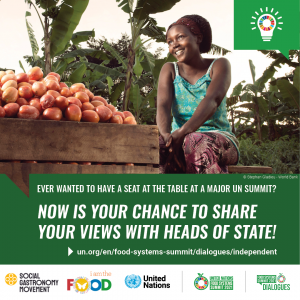 مصدر الصورة: Stephan Gladieu