بدعوة من
Lauren Grimes, Founder and CEO of The Community Enrichment Project
المدينة
Washington, DC, United States
نطاق التركيز الجغرافي
No borders
التنسيق
على الإنترنت
يُرجى مراجعة التفاصيل أدناه للحصول على معلومات التسجيل إذا كانت متوفرة أو الاتصال بمنظم الحوار إذا كنت ترغب في الحضور.
القيّم
Lauren Grimes, Founder and CEO of The Community Enrichment Project
الوصف
In honor of "2021 International Youth Day Conference," join us as we host an International Youth Dialogue on this year's theme: "Transforming Food Systems: Youth Innovation for Human and Planetary Health."
Participants can view the live-streamed events and join the discussion at https://www.youtube.com/channel/UCaxxOPMjcsgVegPXRDWkEJA.
الشكر والتقدير
Mojisola Ogundiran, Founder of United Network of Youth for Peace and Diplomacy.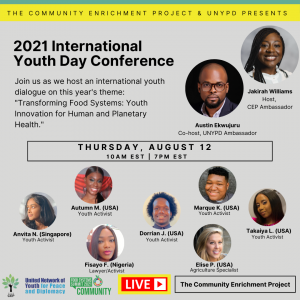 مصدر الصورة: The Community Enrichment Project