الملاحظات التقييمية الرسمية على الحوارات إلى قمة الأمم المتحدة للنظم الغذائية لعام 2021
آخر تحديث:
تنزيل مستند PDF
بدعوة من
Dr. Judith A. Wafula (Convenor)/Dr. Stephen Kamau (Co-Convenor), Lukenya University, Kenya
نطاق التركيز الجغرافي
No borders
التنسيق
على الإنترنت
يُرجى مراجعة التفاصيل أدناه للحصول على معلومات التسجيل إذا كانت متوفرة أو الاتصال بمنظم الحوار إذا كنت ترغب في الحضور.
القيّم
Dr. Sarada Prasad Mohapatra, Associate Professor and Head of Department of Botany and Environmental Science, Narasingh Choudhury Autonomous College, India
الوصف
In the dialogue theme "Innovative inclusion of the youth, women and persons living with disabilities in sustainable food systems for development", we ask the question, in what innovative ways can the youth, women and persons living with disabilities be meanigfully involved in ensuring sustainable food systems for the development of economies in Africa and the world? It is noted that the youth make up the largest population of the world. Consequently their participation in food systems is essential for sustainability. However, the youth tend to prefer other professions as opposed to agricultural based options with the notion that they are "More superior and better paying".
Further, women involvement in food systems is fundamental for a healthy family. Nevertheless, they are faced with challenges such as lack of land ownership, sexual abuse and gender-based violence among others. On the other hand, the people living with disabilities are not exposed to the same opportunities as the rest of the population. They are left out in development innovations, for example, through technological advancements that are not compliant for their use.
These and related issues are the focus of the dialogue. We will forge a way forward by suggesting practical solutions that will enhance the involvement of the youth, women and people living with disabilites in food systems.
الشكر والتقدير
Climate Smart Agriculture Youth Network Global (GCSAYN) and partner institutions.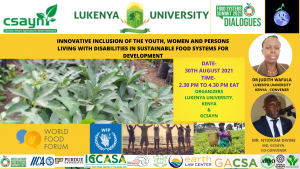 مصدر الصورة: Lukenya University