بدعوة من
Nancy Rios, Project Coordinator; The Welcome Dinner Project Victoria
المدينة
Melbourne VIC, Australia
نطاق التركيز الجغرافي
No borders
التنسيق
على الإنترنت
يُرجى مراجعة التفاصيل أدناه للحصول على معلومات التسجيل إذا كانت متوفرة أو الاتصال بمنظم الحوار إذا كنت ترغب في الحضور.
القيّم
Professor Bruce Pascoe, The University of Melbourne ; Professor Adrian H. Hearn, The University of Melbourne
الوصف
We invite you to join us to explore the use of Indigenous Australian grains for making bread, and its potential as a future food.
Join us for the first edition of our exciting new series:
MEET AND MAKE
Australia's foremost food influencers will lead us in a journey of discovery from the comfort of our own homes.

Together we will learn about unique foods and ingredients that connect us as Australians, cook and share a meal (virtually for now!), build friendships across cultures, experience a sense of belonging and ignite new opportunities in our communities.
Professor Bruce Pascoe is our special guest for this first MEET AND MAKE event. He will share some of his extensive knowledge about Aboriginal People: The World's First Bakers. The presentation will outline Aboriginal and Torres Strait Islander People's agriculture and food knowledge and how some of these traditional ingredients are being rediscovered in these times.
Following the presentation by Professor Bruce Pascoe, guests will join an interactive cook-along to cook their own Kangaroo Grass bread at home! (Please note: Guests will be provided with Kangaroo Grass Flour and will be supplied with a list of supplementary ingredients before the event.)
Once your bread is baking, we will move into the Virtual Welcome Dinner process, sharing our food and stories in breakout rooms, facilitated by Welcome Dinner Project facilitators.
It is expected that the presentation and cooking will take one hour and the Welcome Dinner that follows will take one hour, making the event 2 hours in total.
Participants will go in the running to win vouchers to Mabu Mabu an Indigenous owned events and catering cafe, bar and Kitchen in Melbourne using Indigenous ingredients.
The event is free to attend but spaces are very limited so please register to secure your place.
The event will be hosted on Zoom – registered guests will be provided with a link in the week before the event.
We can't wait to have you with us, to learn and exchange knowledge about our elders' food culture.
The event is sponsored by the Diversity and Inclusion Committee Small Grants Program hosted by the Faculty of Arts of the University of Melbourne in collaborative partnership with the Welcome Dinner Project Victoria connecting academics, domestic and international students, change-makers and all people on the topic of Indigenous People's knowledge, particularly Aboriginal and Torres Strait Islander People's Agriculture and Food.
الشكر والتقدير
The University of Melbourne, The Welcome Dinner Project, The city of Melbourne, Professor Bruce Pascoe.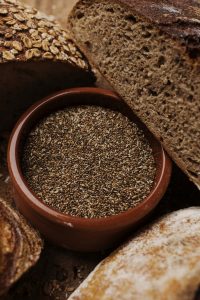 مصدر الصورة: JAMES BRICKWOOD