الملاحظات التقييمية الرسمية على الحوارات إلى قمة الأمم المتحدة للنظم الغذائية لعام 2021
آخر تحديث:
تنزيل مستند PDF
بدعوة من
CIHEAM; FAO; UfMS; UN One Planet Network Sustainable Food Systems Programme; PRIMA
لغة فعالية الحوار
English, with interpretation in Arabic and French
نطاق التركيز الجغرافي
No borders
التنسيق
على الإنترنت
يُرجى مراجعة التفاصيل أدناه للحصول على معلومات التسجيل إذا كانت متوفرة أو الاتصال بمنظم الحوار إذا كنت ترغب في الحضور.
القيّم
Jamie Morrison, Director, Food Systems and Food Safety Division, FAO
الوصف
Dialogue 3: Way forward for regional collaboration
This third dialogue co-convened by the International Centre for Advanced Mediterranean Agronomic Studies (CIHEAM), the Food and Agriculture Organization of the United Nations (FAO), the Secretariat of the Union for the Mediterranean (UfM), the One Planet Network's Sustainable Food Systems Programme (OPN-SFSP) and the Partnership for Research and Innovation in the Mediterranean Area (PRIMA) Foundation is the prosecution of the two other Independent Dialogues on "Pathways for the future of sustainable food systems in the Mediterranean" held in April and June 2021. The outcomes of these dialogues and their key messages were synthesised in this executive brief (English, French, Arabic).
Following the Dialogues, FAO, CIHEAM and UfM conducted a stocktaking exercise of national and independent dialogues that took place in the Mediterranean region, as a starting point to reflect on the ongoing efforts by countries and stakeholders in the preparation and follow-up to the UN Food Systems Summit. More specifically, the stocktake will allow to highlight the main issues and national pathways identified within the UNFSS process across the Mediterranean region, identifying common patterns, trends, and opportunities specific to the Mediterranean context that can help build strong regional collaboration. The stocktake combines research and an in-depth desk review and analysis of the official feedback forms of 24 FSSDs that took place in the Mediterranean region, as well as National Pathways, and the statements delivered by Member States during the Pre-Summit, the UNFSS and other related events. It is not meant to represent the position or opinions of any of this dialogue's Convenors.
OBJECTIVES
This third dialogue is designed to:
take stock of regional and national efforts as a follow-up to the UNFSS;
exchange on the way forward and opportunities for collaboration at national and regional level.
The agenda is available at this link.
The event will be live-streamed publicly on FAO website.
الشكر والتقدير
With the support of the Ministry of Foreign Affairs and International Cooperation of Italy.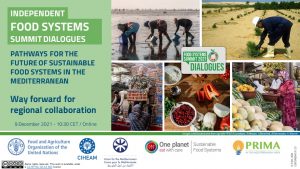 مصدر الصورة: ©FAO/A.Landoulsi, R.Messori, A.Benedetti, B.Rasmussen, H. Khamis