الملاحظات التقييمية الرسمية على الحوارات إلى قمة الأمم المتحدة للنظم الغذائية لعام 2021
آخر تحديث:
تنزيل مستند PDF
بدعوة من
Emmanuel Ngore, Head of Secretariat, CAADP Youth Network
لغة فعالية الحوار
English and French
نطاق التركيز الجغرافي
Kenya
التنسيق
على الإنترنت
يُرجى مراجعة التفاصيل أدناه للحصول على معلومات التسجيل إذا كانت متوفرة أو الاتصال بمنظم الحوار إذا كنت ترغب في الحضور.
الوصف
Among other objectives, this dialogue mobilized African 
#YouthInAg
 networks to speak with one voice as they make input to the UNFSS to facilitate the inclusion of youth in agribusiness in National Agricultural Development Strategies on the continent. The dialogue:
established a roadmap for meaningful youth engagement with national governments and relevant stakeholders beyond the food systems summit.
produced an Africa Youth in Agribusiness and Climate Change Position Paper /Advocacy
Framework on "The Pro-Youth Africa Food Systems We Want"
الشكر والتقدير
CAADP Youth Network, Young Professionals for Agricultural Development (YPARD Africa), The African Youth Initiative on Climate Change (AYICC) supported by USAID-Policy Link and SEI - Stockholm Environment Institute.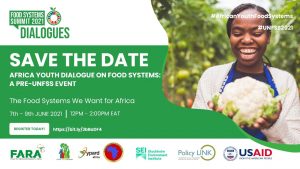 مصدر الصورة: USAID-Policy Link