الملاحظات التقييمية الرسمية على الحوارات إلى قمة الأمم المتحدة للنظم الغذائية لعام 2021
آخر تحديث:
تنزيل مستند PDF
بدعوة من
Mr. Said Abdullah (Koalisi Rakyat untuk Kedaulatan Pangan)
لغة فعالية الحوار
Indonesia
نطاق التركيز الجغرافي
Indonesia
التنسيق
على الإنترنت
يُرجى مراجعة التفاصيل أدناه للحصول على معلومات التسجيل إذا كانت متوفرة أو الاتصال بمنظم الحوار إذا كنت ترغب في الحضور.
القيّم
Prof. Dr. Ir. Damayanti Buchori, M.Sc. ( Center for Transdisciplinary and Sustainability Science IPB University)
الوصف
Indonesian Youth Food Sistem Summit
The COVID-19 pandemic that occurred in the past year shows the fact that our food system is not doing well. Food systems, both in the world and in Indonesia, are fragile and vulnerable to collapse. The pandemic causes food availability in the market to become problematic, even when food is available, inaccessible to the poor due to rising prices and falling incomes. In Indonesia, people's food consumption is predicted to fall to 8.29 percent from normal conditions. This pandemic also hit farmers, namely a decrease in selling prices. As of October 2020, food products from farmers are still below normal prices. This situation causes farmers to suffer losses.
The fragility of the food system can threaten food security, health, environment, economy, society, culture, and politics. In various cases, changes in these sectors have made the poor even more vulnerable and marginalized. This can be seen from Indonesia's statistical data, as of September 2020, the number of poor people has increased by 2.76 million to 27.55 million. This amount, the increase in the number of poor people was 1.14 percent in rural areas and 1.32 percent in urban areas.
The current food system is highly unresponsive, unfair, and not sovereign. The food system is not fair for all actors, especially farmers, and small-scale food producers. Farmers are still portrayed as production objects or even means of production. Food-related decisions and policies often do not address the needs and problems faced by farmers. As a result, the quality of life of farmers does not improve which leads to low farmer regeneration.
Food imports from time to time continue to increase. This causes domestic production to be increasingly eroded. The consumption pattern is getting more uniform as the food available becomes more uniform. In the end, the diversity of food types and systems became increasingly limited. In fact, with the diversity of food and local food systems, the resilience of the food system is getting stronger. The weakening of the food system causes weak food security and sovereignty.
Improving the food system is needed not only in the context of dealing with the impact of Covid 19 but furthermore as a way to achieve sustainable development goals by 2030. Changes in the food system are finding momentum today. All parties have an important role in changing the food system now and in the future. One of the parties that has an important role is farmers and youth.
Improving a food system that is just, resilient and sovereign in the future requires breakthroughs, innovation, and smart work. This is very possible for young people who work as young farmers or in other sectors that intersect with food. Going forward, young people will become the leaders in changing the food system. But unfortunately, their voices are often never heard or made an important part. Through the momentum of this food system summit, the voices of young people, both young farmers, and others need to be heard and made important. The food system summit forum was held as a space for ideas and solutions from young people to change a food system that is just, resistive, and sovereign.
Registered yourself by this link
http://bit.ly/KRKPIndependentDialogueUNFSS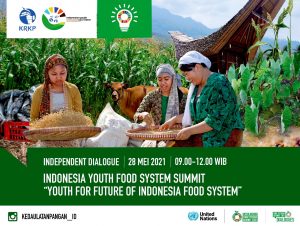 مصدر الصورة: KRKP