الملاحظات التقييمية الرسمية على الحوارات إلى قمة الأمم المتحدة للنظم الغذائية لعام 2021
آخر تحديث:
تنزيل مستند PDF
بدعوة من
Jacques Vandenschrik (President, European Food Banks Federation) & Angela Frigo (Secretary General, European Food Banks Federation)
لغة فعالية الحوار
English - interpretation in Italian and Czech
المدينة
Bruxelles, Belgium
نطاق التركيز الجغرافي
No borders
التنسيق
على الإنترنت
يُرجى مراجعة التفاصيل أدناه للحصول على معلومات التسجيل إذا كانت متوفرة أو الاتصال بمنظم الحوار إذا كنت ترغب في الحضور.
الوصف
FEBA Annual Convention 2021 "For a sustainable future food system" is organised in collaboration with Česka Federace Potravinovych Bank and will be held online on 6-7 May 2021.
FEBA Annual Convention 2021 is recognised as a UN Food Systems Independent Dialogue and wants to offer opportunities for all participants to engage directly in proposing pathways towards sustainable food systems, exploring new ways of working together and encouraging collaborative actions. The outcomes of the FEBA Annual Convention 2021 will be written down in a report and submitted to the United Nations as a contribution to the UN Food Systems Summit.
COVID-19 has placed the global economy under tremendous strain. While throwing many people into food insecurity overnight, this crisis has highlighted the importance of food security in Europe.
Since their first establishment, FEBA members have daily worked facing the challenge not just to prevent food waste but also to ensure its safe delivery and redistribution to charities helping people in need. Adaptation to change is the nature of Food Banks. They have provided tangible responses in a challenging context, contributed to improving the efficiency of food business operators, increasing significantly and rapidly their operations, with an agile determination, a continuous process innovation, and a widespread coverage on the ground. Food availability, accessibility, and affordability, especially for disadvantaged people, are affected by rapid changes and crises. In the future the food systems will undergo more and more resettlements, sometimes abruptly. Last but not least, climate change is affecting our planet more and more intensely. As the population grows, the need for food increases. New food habits of consumers shifting to production and consumption back into homes. Food consumption is changing towards a greater demand for quality.
This year the UN convenes a Food Systems Summit as part of the Decade of Action to achieve the Sustainable Development Goals (SDGs) by 2030). The Summit will launch bold new actions to deliver progress on all 17 SDGs, each of which relies to some degree on healthier, more sustainable and equitable food systems. This year the G20, the international forum that brings together the world's major economies, focuses on the great challenges of today: from recovery from the pandemic to addressing climate change, from supporting innovation to overcoming poverty and inequality. This is an arena where the contribution of Food Banks is increasingly required. On 29 September 2021 we will celebrate the second International Day of Awareness of Food Loss and Waste, and 2021 is the International Year of Fruits and Vegetables 2021 (IYFV), as declared by the UN General Assembly in Resolution A/RES/74/244. The IYFV aims at raising awareness of, directing policy attention to, and sharing good practices on the nutritional and health benefits of fruit and vegetable consumption, the contribution of fruit and vegetable consumption to the promotion of diversified, balanced and healthy diets and lifestyles, and reducing loss and waste of fruits and vegetables. Moreover, in November the COP26 summit will bring parties together to accelerate action towards the goals of the Paris Agreement and the UN Framework Convention on Climate Change. Finally, 2021 marks the beginning of the programming period 2021-2027 with new EU strategies and policies, such as the European Pillar of Social Rights, the Next Generation EU, the REACT-EU initiative, the Farm to Fork Strategy, the European Social Fund Plus, and the Common Agricultural Policy.
Solidarity and collaboration may be a way of coming of this pandemic crisis better, stronger and together. The support of public authorities, businesses, charities, volunteers, and citizens has proven that it is possible to grow through adversity.
2021 can be regarded as the foundation stone for a profound renewal of our food system, bringing it at the centre of the political agenda and going beyond the "business as usual" approach. Our food systems can overcome historical criticalities – crises, disruptions, fragmentation, interdependence, national self-sufficiency – by means of a massive digitalisation, by facilitating the dissemination of best practices, innovations and new technologies from farm to fork, and by ensuring that both profit and non-profit food business operators can understand the benefits of such transformation.
It is essential to think systemically: all food business operators are pieces of a single picture representing the food systems.
The European Food Banks Federation wants to accept this responsibility by engaging in concrete actions, contributing to the ongoing debate, and being part of the choices that will follow giving value to food and taste to the future.
DAY 1 – 6/05/21
Opening Welcome with FEBA President, Minister of Environment from Czech Republic, CEO Česka Federace Potravinovych Bank, Executive Director General Mills Foundation.
Plenary Session with high-level speakers from the European Commission, FAO, World Resource Institute, Cardiff University.
Concrete actions from Czech Republic
DAY 2 – 7/05/21
Working tables with FEBA members, external partners and stakeholders (by invitation only) on Data Collection & Digital Transformation, Corporate Partnerships, Rethinking the Foodbanking Narrative, Young Generations for a Sustainable Future Food System, Volunteering and New Boundaries for Food Redistribution.
Working tables restitution – Q&A session
International Panel
Closing remarks
Visit the dedicated website: https://annualconvention.eurofoodbank.org/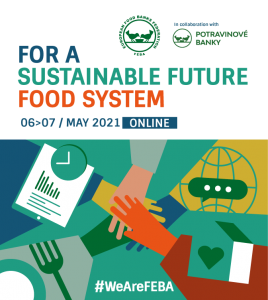 مصدر الصورة: FEBA