Comentarios oficiales del Diálogo para la Cumbre de las Naciones Unidas sobre los Sistemas Alimentarios de 2021
Última actualización:
Descargar PDF
Tipo de diálogo
Independiente
Convocado por
Food & Climate Crisis with Federico Andreotti, Amalia Sacchi and Tommaso Perrone
Idioma del Diálogo
Italian
Formato
Virtual
Por favor revise los detalles que encontrará más abajo para obtener información sobre cómo registrarse en el caso de que esté disponible o contacte al convocante si le gustaría asistir.
Descripción
Sentite spesso parlare di agroecologia, gastronomia, filiere corte o sostenibilità a tavola? Se ancora non avete idea di cosa significhino davvero queste parole, seguite Weekly Seeds! Weekly Seeds è un talkshow live su Twitch. Ogni episodio ha un ospite che racconta del suo progetto di sostenibilità legato all'agricoltura o al cibo. Il tutto in un'atmosfera rilassata e divertente. dove la chat può interagire liberamente. Vi aspettiamo ogni lunedì dal 10 maggio al 28 giugno alle 21:00 sul canale Twitch di Weekly Seeds. Potete trovarci anche su Youtube e Spotify.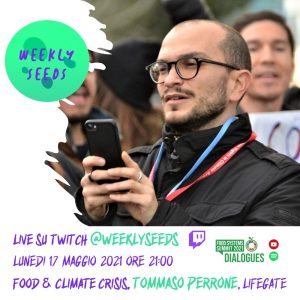 Créditos de la imagen: Tommaso Perrone, Lifegate