Official Dialogue Feedback to the United Nations 2021 Food Systems Summit
Last updated:
Download PDF
Type of Dialogue
Independent
Convened by
Food & Climate Crisis with Federico Andreotti, Amalia Sacchi and Tommaso Perrone
Language of Dialogue Event
Italian
Format
Online
Please review the details below for registration information if available or contact the Convenor if you would like to attend.
Description
Sentite spesso parlare di agroecologia, gastronomia, filiere corte o sostenibilità a tavola? Se ancora non avete idea di cosa significhino davvero queste parole, seguite Weekly Seeds! Weekly Seeds è un talkshow live su Twitch. Ogni episodio ha un ospite che racconta del suo progetto di sostenibilità legato all'agricoltura o al cibo. Il tutto in un'atmosfera rilassata e divertente. dove la chat può interagire liberamente. Vi aspettiamo ogni lunedì dal 10 maggio al 28 giugno alle 21:00 sul canale Twitch di Weekly Seeds. Potete trovarci anche su Youtube e Spotify.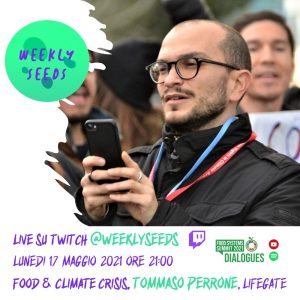 Image credit: Tommaso Perrone, Lifegate