الملاحظات التقييمية الرسمية على الحوارات إلى قمة الأمم المتحدة للنظم الغذائية لعام 2021
آخر تحديث:
تنزيل مستند PDF
بدعوة من
Food & Climate Crisis with Federico Andreotti, Amalia Sacchi and Tommaso Perrone
نطاق التركيز الجغرافي
Italy
التنسيق
على الإنترنت
يُرجى مراجعة التفاصيل أدناه للحصول على معلومات التسجيل إذا كانت متوفرة أو الاتصال بمنظم الحوار إذا كنت ترغب في الحضور.
الوصف
Sentite spesso parlare di agroecologia, gastronomia, filiere corte o sostenibilità a tavola? Se ancora non avete idea di cosa significhino davvero queste parole, seguite Weekly Seeds! Weekly Seeds è un talkshow live su Twitch. Ogni episodio ha un ospite che racconta del suo progetto di sostenibilità legato all'agricoltura o al cibo. Il tutto in un'atmosfera rilassata e divertente. dove la chat può interagire liberamente. Vi aspettiamo ogni lunedì dal 10 maggio al 28 giugno alle 21:00 sul canale Twitch di Weekly Seeds. Potete trovarci anche su Youtube e Spotify.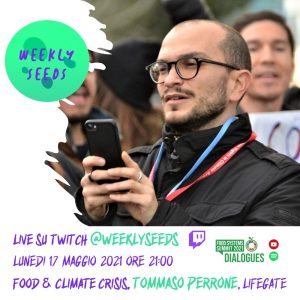 مصدر الصورة: Tommaso Perrone, Lifegate