Compte-rendu officiel des Concertations pour le Sommet des Nations Unies sur les systèmes alimentaires 2021
Dernière mise à jour :
Télécharger le PDF
Type de Concertation
Indépendant
Coordonnateur
Food & Climate Crisis with Federico Andreotti, Amalia Sacchi and Tommaso Perrone
Langue de l'événement de Concertation
Italian
Format
En ligne
Veuillez consulter les détails ci-dessous pour obtenir des renseignements sur l'inscription, s'ils sont disponibles, ou communiquer avec le coordonnateur si vous souhaitez y assister.
Description
Sentite spesso parlare di agroecologia, gastronomia, filiere corte o sostenibilità a tavola? Se ancora non avete idea di cosa significhino davvero queste parole, seguite Weekly Seeds! Weekly Seeds è un talkshow live su Twitch. Ogni episodio ha un ospite che racconta del suo progetto di sostenibilità legato all'agricoltura o al cibo. Il tutto in un'atmosfera rilassata e divertente. dove la chat può interagire liberamente. Vi aspettiamo ogni lunedì dal 10 maggio al 28 giugno alle 21:00 sul canale Twitch di Weekly Seeds. Potete trovarci anche su Youtube e Spotify.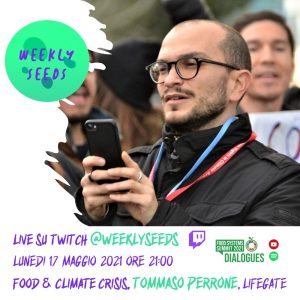 Crédit image : Tommaso Perrone, Lifegate