Comentarios oficiales del Diálogo para la Cumbre de las Naciones Unidas sobre los Sistemas Alimentarios de 2021
Última actualización:
Descargar PDF
Tipo de diálogo
Estado miembro
Convocado por
His Excellency Sok Silo, Secretary General of the Council for Agricultural and Rural Development and Ms Claire Conan, Country Director and Representative, World Food Programme, Cambodia
Idioma del Diálogo
Khmer and English
Ciudad
Phnom Penh, Cambodia
Enfoque geográfico
Cambodia
Formato
Virtual
Por favor revise los detalles que encontrará más abajo para obtener información sobre cómo registrarse en el caso de que esté disponible o contacte al convocante si le gustaría asistir.
Administrador
His Excellency Say Ung, Advisor and Director of the Department of Food Security and Nutrition and Health, CARD
Descripción
This event will examine the linkages between the food system and the evolution of a system of shock responsive social protection in Cambodia.  These linkages have been shown to be critically important in the context of COVID-19 restrictions in Cambodia as lockdowns and market closures jeoparised access to perishable foods for periods of strict lockdown in parts of Phnom Penh.  Social assistance measures evolved rapidly in the face of these challenges, providing opportunities for learning and ongoing strengthening of  social safety nets.
Agradecimiento
General Secretariat for the National Council for Social Protection, Council for Agricultural and Rural Development, World Food Programme, GIZ, UNICEF and FAO,.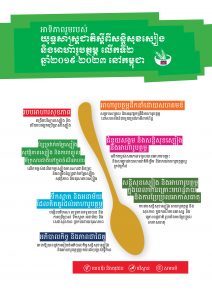 Créditos de la imagen: @WFP