Compte-rendu officiel des Concertations pour le Sommet des Nations Unies sur les systèmes alimentaires 2021
Dernière mise à jour :
Télécharger le PDF
Type de Concertation
État membre
Coordonnateur
His Excellency Sok Silo, Secretary General of the Council for Agricultural and Rural Development and Ms Claire Conan, Country Director and Representative, World Food Programme, Cambodia
Langue de l'événement de Concertation
Khmer and English
Ville
Phnom Penh, Cambodia
Cible géographique
Cambodia
Format
En ligne
Veuillez consulter les détails ci-dessous pour obtenir des renseignements sur l'inscription, s'ils sont disponibles, ou communiquer avec le coordonnateur si vous souhaitez y assister.
Animateur
His Excellency Say Ung, Advisor and Director of the Department of Food Security and Nutrition and Health, CARD
Description
This event will examine the linkages between the food system and the evolution of a system of shock responsive social protection in Cambodia.  These linkages have been shown to be critically important in the context of COVID-19 restrictions in Cambodia as lockdowns and market closures jeoparised access to perishable foods for periods of strict lockdown in parts of Phnom Penh.  Social assistance measures evolved rapidly in the face of these challenges, providing opportunities for learning and ongoing strengthening of  social safety nets.
Remerciements
General Secretariat for the National Council for Social Protection, Council for Agricultural and Rural Development, World Food Programme, GIZ, UNICEF and FAO,.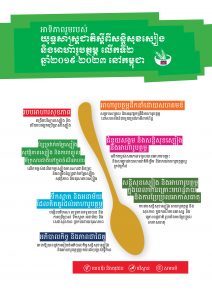 Crédit image : @WFP