Official Dialogue Feedback to the United Nations 2021 Food Systems Summit
Last updated:
Download PDF
Type of Dialogue
Member State
Convened by
His Excellency Sok Silo, Secretary General of the Council for Agricultural and Rural Development and Ms Claire Conan, Country Director and Representative, World Food Programme, Cambodia
Language of Dialogue Event
Khmer and English
Geographical focus
Cambodia
Format
Online
Please review the details below for registration information if available or contact the Convenor if you would like to attend.
Curator
His Excellency Say Ung, Advisor and Director of the Department of Food Security and Nutrition and Health, CARD
Description
This event will examine the linkages between the food system and the evolution of a system of shock responsive social protection in Cambodia.  These linkages have been shown to be critically important in the context of COVID-19 restrictions in Cambodia as lockdowns and market closures jeoparised access to perishable foods for periods of strict lockdown in parts of Phnom Penh.  Social assistance measures evolved rapidly in the face of these challenges, providing opportunities for learning and ongoing strengthening of  social safety nets.
Acknowledgement
General Secretariat for the National Council for Social Protection, Council for Agricultural and Rural Development, World Food Programme, GIZ, UNICEF and FAO,.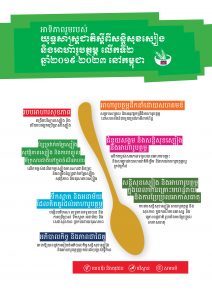 Image credit: @WFP