Comentarios oficiales del Diálogo para la Cumbre de las Naciones Unidas sobre los Sistemas Alimentarios de 2021
Última actualización:
Descargar PDF
Tipo de diálogo
Independiente
Convocado por
Ernie Shea, President- Solutions from the Land
Idioma del Diálogo
English
Ciudad
Washington D.C., DC, USA
Enfoque geográfico
United States of America
Formato
Virtual
Por favor revise los detalles que encontrará más abajo para obtener información sobre cómo registrarse en el caso de que esté disponible o contacte al convocante si le gustaría asistir.
Administrador
AG Kawamura, Co-Chair- Solutions from the land
Descripción
This independent dialogue, sponsored by Solutions from the Land and a cross section of collaborating food system stakeholders, will bring together a diverse range of U.S. producers to discuss the summit's third Action Track: Boosting Nature Positive Production. Through engagement and discussion, this dialogue will explore U.S. systems, practices and pathways for optimizing environmental resource use in food production and helping reduce biodiversity loss, pollution, water use, soil degradation and greenhouse gas emissions.
Agradecimiento
Almond Board of California; Animal Agriculture Alliance; Cornell Institute for Climate Smart Solutions; National Corn Growers Association; National Institute for Animal Agriculture; Solutions from the Land; U.S. Grains Council; U.S. Soybean Export Council.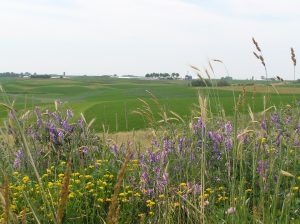 Créditos de la imagen: Lois Wright Morton