Compte-rendu officiel des Concertations pour le Sommet des Nations Unies sur les systèmes alimentaires 2021
Dernière mise à jour :
Télécharger le PDF
Type de Concertation
Indépendant
Coordonnateur
Ernie Shea, President- Solutions from the Land
Langue de l'événement de Concertation
English
Ville
Washington D.C., DC, USA
Cible géographique
United States of America
Format
En ligne
Veuillez consulter les détails ci-dessous pour obtenir des renseignements sur l'inscription, s'ils sont disponibles, ou communiquer avec le coordonnateur si vous souhaitez y assister.
Animateur
AG Kawamura, Co-Chair- Solutions from the land
Description
This independent dialogue, sponsored by Solutions from the Land and a cross section of collaborating food system stakeholders, will bring together a diverse range of U.S. producers to discuss the summit's third Action Track: Boosting Nature Positive Production. Through engagement and discussion, this dialogue will explore U.S. systems, practices and pathways for optimizing environmental resource use in food production and helping reduce biodiversity loss, pollution, water use, soil degradation and greenhouse gas emissions.
Remerciements
Almond Board of California; Animal Agriculture Alliance; Cornell Institute for Climate Smart Solutions; National Corn Growers Association; National Institute for Animal Agriculture; Solutions from the Land; U.S. Grains Council; U.S. Soybean Export Council.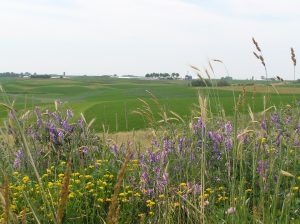 Crédit image : Lois Wright Morton