الملاحظات التقييمية الرسمية على الحوارات إلى قمة الأمم المتحدة للنظم الغذائية لعام 2021
آخر تحديث:
تنزيل مستند PDF
بدعوة من
CGIAR Research Program on Climate Change, Agriculture and Food Security (CCAFS), The Earth Institute, Columbia University, and Bayer Crop Science
المدينة
St. Louis, MO, USA
نطاق التركيز الجغرافي
No borders
التنسيق
على الإنترنت
يُرجى مراجعة التفاصيل أدناه للحصول على معلومات التسجيل إذا كانت متوفرة أو الاتصال بمنظم الحوار إذا كنت ترغب في الحضور.
القيّم
Dr. Lawrence Haddad, Executive Director, GAIN
الوصف
On Nov 19 the global dialogue will bring together North America-based organizations and North America farmers associations, with different stakeholder groups, to discuss concrete actions to transform food systems. The dialogue will be based on the findings of the landmark CGIAR/CCAFS Actions to Transform Food Systems Under Climate Change report and in alignment with the action tracks and levers of the United Nations Food Systems Summit 2021.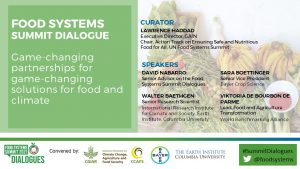 مصدر الصورة: The Earth Institute, Columbia University