الملاحظات التقييمية الرسمية على الحوارات إلى قمة الأمم المتحدة للنظم الغذائية لعام 2021
آخر تحديث:
تنزيل مستند PDF
بدعوة من
UN Issue Based Coalition for Sustainable Food Systems in Europe and Central Asia ( FAO UNICEF WHO WFP UNECE WMO UNDP IFAD)
لغة فعالية الحوار
English, Russian
نطاق التركيز الجغرافي
No borders
التنسيق
على الإنترنت
يُرجى مراجعة التفاصيل أدناه للحصول على معلومات التسجيل إذا كانت متوفرة أو الاتصال بمنظم الحوار إذا كنت ترغب في الحضور.
القيّم
Raimund Jehle, Regional Programme Leader, Regional Office for Europe and Central Asia, FAO
الوصف
The United Nations Food Systems Summit (September 2021) is an opportunity to rethink our food systems and launch new actions to transform the way we produce, transform and consume food.
This echoes across the Europe and Central Asia (ECA) region, giving an impulse to organize a regional dialogue on "Policy and governance issues to transform food systems in Europe and Central Asia", on May 25th 2021 from 10:00am to 12:30pm CEST, organised by the UN Issue-based Coalition (IBC) on Sustainable Food Systems for Europe and Central Asia. Established in April 2020, the main objective of the IBC on Sustainable Food Systems is to support countries to make food systems more sustainable to contribute to the achievement of the Sustainable Development Goals. Members of the IBC are: FAO UNICEF WHO WFP UNECE WMO UNDP IFAD.
The Regional dialogue is convened to discuss key policy and governance issues related to sustainable food systems, with a focus on the need for strong governance and holistic approaches to build equitable food systems for improved livelihoods and nutritional status of the most vulnerable, and to afford nature-positive production and climate-resilient food systems. The dialogue will facilitate sharing of information and experiences on opportunities, challenges, and appropriate policy actions for sustainable transformation of the food systems in Europe and Central Asia, in the context of the achievement of the Sustainable Development Goals (SDGs).
The Event will be streamed live on Youtube in English and can also be followed on Zoom in English and Russian.
The regional dialogue will highlight the following key messages:
Strong governance and holistic national and regional approaches are needed for a sustainable food systems transformation.
Food systems need to be equitable and promote the livelihoods and nutritional status of the most vulnerable in food systems both in urban and rural areas (including small-holders, children, youth, women) with a view to addressing their specific needs, and enabling them to be drivers of change through their food choices.
Boosting nature-positive production and building climate-resilient food systems require regional approaches aimed, among others, at measuring the contribution of food production to GHG emissions, improving circularity and resource efficiency in food production and manufacturing, as key to reduce the impact of food production on the environment.
Innovation through participatory engagement processes and structures is required to create food systems solutions that deliver co-benefits and mitigate trade-offs.
The Dialogue includes two panel discussions:
Panel 1: Shaping our food systems to be more equitable, by empowering all consumers and protecting the most vulnerable by ensuring access to safe, nutritious food, and inclusive economic livelihoods.
Panel 2: Improving the sustainability of food systems, by minimizing negative impacts on the natural resource base by promoting nature-positive and climate-resilient food production, and re-shaping financing for greener outcomes.
As a result of the two panel discussions, knowledge and experiences will be shared on:
appropriate measures to address the specific nutritional challenges of the most vulnerable members of our society, focusing on children, youth and women;
means to shape food demand through actions of government and civil society, including consumers, to drive sustainability through their food choices and actions;
building equitable, inclusive food systems which allow small-holders and small and medium-sized enterprises to reach their maximum potential, and contribute to sustainable value chains;
drivers for adjusting food systems to more sustainable models which meet food and nutrition security needs, with reduced depletion of natural resources and negative environmental impacts;
aligning policies with nature positive production, including financial support to incentivize a just transition to sustainable agriculture and greening of value chains.
In addition, a "food systems community" for Europe and Central Asia region has been set up on the UNFSS Community website which will feed into the event, on 25 May 2021, and allow for continued dialogue, information exchange and sharing of best practice following the event.
Discover the Agenda and register here.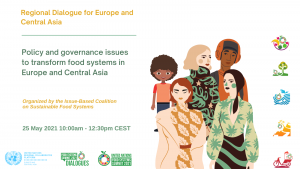 مصدر الصورة: UN Issue-based Coalition (IBC) on Sustainable Food Systems for Europe and Central Asia