الملاحظات التقييمية الرسمية على الحوارات إلى قمة الأمم المتحدة للنظم الغذائية لعام 2021
آخر تحديث:
تنزيل مستند PDF
بدعوة من
Francine Picard, Senior Policy Advisor, Lead Partnerships; International Institute for Sustainable Development (IISD)
المدينة
Addis Ababa, Ethiopia
نطاق التركيز الجغرافي
Ethiopia
التنسيق
على الإنترنت
يُرجى مراجعة التفاصيل أدناه للحصول على معلومات التسجيل إذا كانت متوفرة أو الاتصال بمنظم الحوار إذا كنت ترغب في الحضور.
القيّم
Alemayehu Seyoum Taffesse, Senior Research Fellow/Program Leader, IFPRI
الوصف
How can we influence consumption pattern through policy interventions that will lead to better environmental and nutritional outcomes? The is the central question that Ceres2030 is exploring through a study on the nexus of climate change, food systems and nutrition.
The Ceres2030 Deep Dives into the Nexus of Food Systems, Climate Change & Nutrition in Ethiopia project will identify food system transition pathways, and their associated cost, for how to improve nutrition outcomes through healthy diets using a more climate resilient production system with fewer greenhouse gas emissions in the country.
IFRI and IISD are organizing a an online consultation to consider the following questions:
What are the expected trends in terms of diets for Ethiopia?
What is the definition of a healthy diet for the country, when considering cultural and economic specificities, and nutritional value of different food items?
Based on micro-econometric evidence, how well do we understand consumer decisions regarding food, in particular in transitioning food systems?
What are the policy instruments and the food system innovations required to achieve healthier diets?
What are the costs and benefits, both in economic and environmental terms (GHG focus) of these diets, and their mitigation value?
What is the most efficient set of actions to achieve this transformation?
How do the different sets of actions translate in terms of weather or climate risk exposure to the future food systems?
The consultations are designed to encourage feedback on the project and develop joint ownership of the recommendations with national stakeholders and to maximize the use of the findings.
The results will contribute to the Summit's goal of providing healthy diets for all, in a sustainable way and will be published to coincide with the dates of the Summit.
الشكر والتقدير
The project is funded by the German Federal Ministry for Economic Cooperation and Development (BMZ) and the European Commission, through the GIZ implemented projects Knowledge for Nutrition (K4N) and Agricultural Policy and Food and Nutrition Security as a contribution to the 2021 UN Food Systems Summit.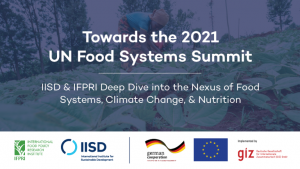 مصدر الصورة: United Nations