الملاحظات التقييمية الرسمية على الحوارات إلى قمة الأمم المتحدة للنظم الغذائية لعام 2021
آخر تحديث:
تنزيل مستند PDF
بدعوة من
His Excellency Sok Silo, Secretary General, Council for Agricultural and Rural Development
المدينة
Krong Ban Lung, Cambodia
نطاق التركيز الجغرافي
Cambodia
التنسيق
شخصيّاً
يُرجى مراجعة التفاصيل أدناه للحصول على معلومات التسجيل إذا كانت متوفرة أو الاتصال بمنظم الحوار إذا كنت ترغب في الحضور.
القيّم
His Excellency Say Ung, Advisor and Director of the Department of Food Security and Nutrition and Health, CARD
الوصف
This in-depth dialogue will be a blended online and face-to-face dialogue conducted in Ratanakiri, Kampong Chhnang, Kampong Thom, Kampot Provinces.  The event will engage members of the Provincial Working Groups for Coordinating Food Security and Nutrition (PWG-FSN) of four provinces to share their views and experiences regarding the potential of provincial coordination towards sustainable food systems. Participants are encouraged to elaborate on the draft vision for sustainable food systems in Cambodia and identifying actions, actors, and levers for moving towards the vision:
By 2030, Cambodian food systems will ensure access to sufficient, safe and nutritious food for all Cambodians, enabling sustainable production and consumption patterns, a balance between long term productivity and the conservation of natural resources, promoting equitable livelihoods and inclusiveness and resilience to vulnerabilities, shocks and stresses.
The discussion will include questions such as: What actions might be needed at provincial level to reach this future vision? How will these actions come to happen (which processes or regulations are needed)? Who will need to be involved (relevant actors)? What is the role of the PWG-FSN in achieving this vision? What outcomes should the PWG-FSN seek? What will be the impact of any outcomes throughout the whole food system?
الشكر والتقدير
The Council for Agricultural and Rural Development, GIZ MUSEFO and Helen Keller International.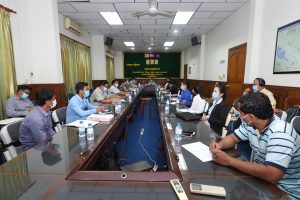 مصدر الصورة: @GIZ MUSEFO