بدعوة من
Joseph Gaithuma. Clinical Nutritionist and President emeritus. Food Technology and Nutrition Students society of kenya.
نطاق التركيز الجغرافي
Kenya
التنسيق
على الإنترنت
يُرجى مراجعة التفاصيل أدناه للحصول على معلومات التسجيل إذا كانت متوفرة أو الاتصال بمنظم الحوار إذا كنت ترغب في الحضور.
القيّم
Agnes Wangui. Hungarian University of Life Sciences: MSc Food Safety and Quality Engineering.
الوصف
The dialogue aims at bringing together youths, leaders and partners involved in the food system processes to dialogue and act with urgency in addressing issues affecting youths in the food systems. The future of the young people is at present hostage to the wide gap between rhetorical commitment to the importance of food system activities and effective attention accorded to it by our leaders. This dialogue aims at addressing the constraints facing the youth's/young people in the food system processes and also to identify features to make programmes friendly to the needs of the young generations.
The  dialogue's conference focus will be on;
How modern food systems can learn from indigenous peoples food systems.
Engaging the youths as active participants in food system transformation.
Enhancing financial availability to the youths for profitable and productive food systems.
Agri-nutrition(Smart farming practices for safe and nutritious foods)
Dealing with food losses at every stage of the food supply chain.
الشكر والتقدير
KEHSS- Kenya Healthcare Students' Summit. AHESS- Africa Healthcare Students' Summit. KIFST- Kenya Institute of Food Science and Technology. WONCA Africa- World Organization of Family doctors. AFROPHC- Africa Forum for Primary Health Care. SIMEDIA Creatives. Scaling Up Nutrition. Action Against Hunger. Asili Jamii.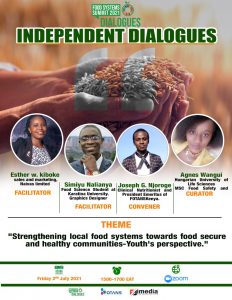 مصدر الصورة: SIMEDIA Creative.